Bayco Reinvents Fire Helmet-Mounted Light in Slim New Nightstick Multi-Purpose NSP-4650B
---
Industry first 45 degree angled floodlight adds safety to convenience at first responder sensitive price
The new Nightstick NSP-4650B Dual-Light™ Flashlight for ambidextrous side-brim mounting on firefighter helmets is in one step providing several major advances in the performance, abilities and agility and doing so at a lower price than older, single purpose flashlight alternatives.
Introduced for the first time to the industry the NSP-4650B offers a second, independently controlled broad-beam LED floodlight, aimed forward at a 45º angle to the flashlight beam. The soft unfocused light pattern emitted by the floodlight is perfect for lighting up nearby objects during overhauling, reading a respirator gauge, or illuminating the ground to prevent slips, trips and falls. At its rear is a third LED that provides a green locator light so others can easily identify team personnel in smoke-filled or dusty environments. According to a recent study by NIOSH, green light is more visible than any other color in a smoke-filled environment.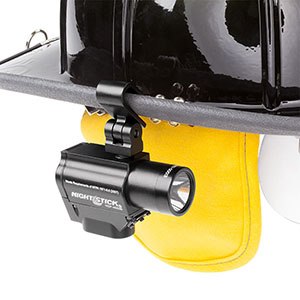 While slim and compact, an innovative mounting clamp allows this multi-purpose light to avoid goggles, face shields or foreign obstructions while retaining the forward aim of its narrow flashlight beam. The pivot also allows for plumb mounting on angled brims.

Lighting modes
The flashlight produces 220 lumens in its high mode for a rated beam distance of 600 feet (183 meters) with a 3.5 hour runtime on a fresh CR123 Lithium battery pair (included). A glove-friendly pushbutton control can also select 100 lumens (390 feet or 120 meters and 10 hours) or 30 lumens (193 feet or 59 meters and 33.5 hours).
A second glove-friendly control can set the independent floodlight for 100 lumens (10 hours), 50 lumens (21.5 hours) or a low 15-lumen survival mode that lasts up to 60 hours.
With both flashlight and floodlight in industry first Dual-Light mode provides a total of 175 lumens for up to 4.5 hours. The flashlight also offers a high-brightness signaling safety strobe lasting up to 6 hours.