STREAMLIGHT® RENEWS SPONSORSHIP OF TRAVIS MANION FOUNDATION
EAGLEVILLE, PA (August, 2014) – Streamlight® Inc., a leading manufacturer of high-performance flashlights and weapon light/laser sighting devices, announced that it has renewed its sponsorship commitment to The Travis Manion Foundation. The company's support will contribute to programs that honor and assist the nation's veterans, first responders, and families of fallen heroes.
As part of its commitment, the company continues to serve as a sponsor of the Foundation's 9/11 Heroes Run, which consists of more than 50 races throughout the U.S. and internationally on or near September 11. In addition, the company is making an equipment donation of 100 Knucklehead® flashlights to local fire departments that are partnering with four of these races. Agencies in Annapolis, MD, Summerville, SC, Madisonville, KY, and Tempe, AZ, each will receive 25 of the lights.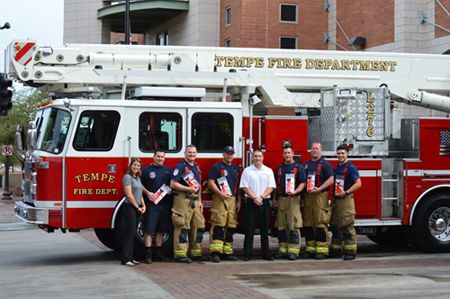 Mike Garrett, Streamlight West Coast Sales Manager, Fire & Industrial, (center) presents Knucklehead flashlights to members of the Tempe, AZ fire department. Jessica Rice, local 9/11 Heroes Run director, looks on.
"We are very proud to continue our relationship with the Travis Manion Foundation and its 9/11 Heroes Run," said Streamlight National Fire Service Specialist Geoff Evans. "This year, we also are supporting runs in communities around the country by donating specialized fire rescue flashlights to participating fire agencies. We hope the gift of these safety tools will not only help protect their communities, but also honor first responders everywhere who put their lives on the line each day in the performance of their jobs."
The company also donates a $1.00 from the sale of each Coyote Nano Light® to the Foundation. The keychain light features a double-sided fob with the Travis Manion Foundation logo.
Named for a brave young Marine who was killed by sniper fire in Iraq in 2007, the Travis Manion Foundation assists veterans and families of fallen heroes in all stages of their personal journeys and offers them unique opportunities to empower them to achieve their goals. The 9/11 Heroes Run activates communities to honor and support veterans, first-responders and troops, and welcomes runners and walkers of all levels. For more information, visit http://www.travismanion.org.
About Streamlight
Based in Eagleville, PA, Streamlight, Inc. recently marked 40 years of making tough, durable, long-lasting flashlights designed to serve the specialized needs of professionals and consumers alike. Since 1973, the company has designed, manufactured and marketed high-performance flashlights, and today offers a broad array of lights, lanterns, weapon light/laser sighting devices, and scene lighting solutions for professional law enforcement, military, firefighting, industrial, automotive, and outdoor applications. Streamlight is an ISO 9001:2008 certified company. For additional information, please call 800-523-7488, visit www.streamlight.com or connect with us on www.facebook.com/streamlight; www.twitter.com/Streamlight; and www.youtube.com/streamlighttv.