FDNY remembers Father's Day fire heroes
Dozens of firefighters turned out to pay tribute to three heroes that died in a fire and explosion on Father's Day in 2011
---
By FDNY
NEW YORK — Firefighters John Downing (Ladder 163), Brian Fahey (Rescue 4) and Harry Ford (Rescue 4) were remembered for their dedication and courage at a memorial mass on June 18 at St. Sebastian's Roman Catholic Church in Woodside, Queens.
The ceremony marked the 10th anniversary of their deaths in a fire and explosion on June 17, 2001 — Father's Day.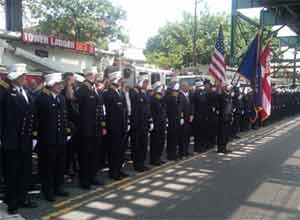 "John, Brian and Harry were the cream of the crop, the best of the best," Fire Commissioner Salvatore Cassano said. "They all served this Department, this city with distinction; we were lucky to have them."
Dozens of firefighters turned out to pay tribute to the three heroes.
"These men embodied professionalism, dedication and commitment," Chief of Department Edward Kilduff said. "We'll always remember their smiles and their spirit."
Firefighter Downing, 40, was survived by his wife, Anne, his daughter, Joanne, and son, Michael. The 11-year veteran of the FDNY was remembered as a man with a formidable size and a kind heart.
Firefighter Fahey, 46, was a 14-year veteran of the Department who was remembered for his sense of humor and leadership. He was survived by his wife, Mary, and their three sons, Brendan, Patrick and James.
"It's a beautiful gift to see them remembered like this today," Ms. Fahey said.
As an experienced 24-year veteran of the Department, Firefighter Ford received nine citations for bravery before his death at age 50. He was survived by his wife, Denise, daughter, Janna, and sons, Harry and Gerard.
"It means a lot to my family that so many people turned out today," Ms. Denise Ford said.
The 2001 fire at a Queens hardware store injured dozens of firefighters, several critically. Fire marshals learned the deadly fire was accidentally set by two teenage boys.
During the memorial mass, retired Lt. Timothy Kelly (Rescue 4) said he was moved by the community response after the tragedy a decade ago: "It was then I realized how much the community and city cared for firefighters. Everyone sent prayers and asked what they could do."
He described Firefighters Downing, Fahey and Ford as "excellent, skilled firefighters." He added that firefighters have gathered strength from the men's widows.
Lt. Nicholas D'Alessandro (Engine 325) said the last 10 years have been lonely without his three friends, but "Fathers Day will always include their memory."
Republished with permission from FDNY.