PRESS RELEASE
Command Light introduces the all-new Trident Tripod, featuring firefighter-favorite power and led options
---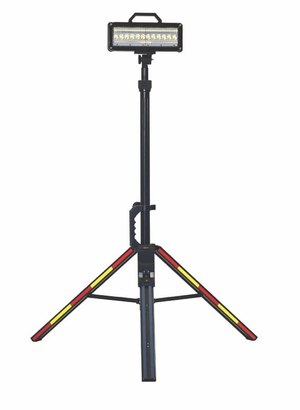 FORT COLLINS, Colo. – Command Light, a leader in emergency vehicle lighting, continues to elevate scene lighting, this time revolutionizing the tripod lighting market with the introduction of the all-new Trident Tripod, the only tripod of its kind that lets departments choose their power source, plus their favorite firefighter LED. Pair AC Power, Truck 12V DC or one of our different non-proprietary battery options with Akron Revels, FRC Spectras, FireTech Helios, Whelen Pioneer Plus or a Feniex Arrow Stick. The new tripod will be unveiled at FDIC International 2022 (Command Light Booth #3411).
"Our tripod is available in AC or DC models, but it's our DC models that are really going to be a gamechanger in the market. It's the first time in industry history that fire departments can pair a DeWalt® FLEXVOLT, Makita® XGT, Milwaukee® M28 or HURST® EWXT™/E3™ battery with a high-lumen LED made for the fireground," Command Light President Roger Weinmeister explained. "We really wanted to create a tripod that works with crews' other battery-operated tools, all the while delivering even more light than the traditional tripod. We know that tripods aren't new to the market, and yet we recognized that the choice in LEDs and power sources was always limited, so now, we're changing that with the Command Light Trident."
The Trident is available in 10 DC models and 8 AC models, depending on LED fixture. Each DC tower can be spec'ed with additional options, like shore power, 12V DC truck power and truck mounting brackets with disconnect.
Command Light's tripod features a compact 50" collapsible design, weighing between 25-35 lbs. depending on model. When deployed and extended, the Trident Tripod features a 91" reach.
"Historically, Command Light has been known for its patented light tower, and while we still firmly believe every truck should be equipped with this important piece of equipment to properly illuminate a scene, we also know mobile lighting is important," Weinmeister added. "Really, we just want to help crews get light where it's needed most, whether that's by setting up lighting near the victim or elevating, rotating and backlighting a large scene."
About Command Light
Command Light, located in Fort Collins, Colo., has specialized in scene lighting for the emergency industry for more than 25 years and features only the best light towers, compact scene lighting, traffic flow boards and other safety lighting products. Command Light's towers are available in a variety of configurations, including AC or DC, different tower bases, varying output choices and a long list of options, like backlighting to illuminate both sides of the scene.
Request more info from Command Light
Thank You!