Pa. chief who responded to United 93 crash on 9/11 needs heart transplant
Terry Shaffer's family is raising money for the chief's medical needs in the hopes he is able to find a successful donor
---
David Hurst
The Tribune-Democrat, Johnstown, Pa.
SHANKSVILLE, Pa. — Terry Shaffer has always had a big heart for his community, his family said.
He is the longtime chief of Shanksville Volunteer Fire Department, which was the first fire department to respond to the crash of United Airlines Flight 93 a couple miles from Shanksville on Sept. 11, 2001.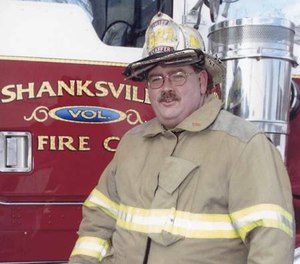 The 35-year volunteer firefighter helped form Shanksville's rescue dive team to save lives during emergencies on area waters — and, every December, he's swapped his gear for a red suit and hat to serve as his community's Santa Claus.
Now that Shaffer's big heart is failing, his family is hoping the community he's supported will come to his rescue.
"My dad is a proud individual. He's used to being the one offering help to others, so we're the ones reaching out for him," said Adam Shaffer, one of Terry's three children, "because he's fighting his own battle right now."
Terry's wife, Kathie Shaffer, and their children — Adam Shaffer, Ben Shaffer and Rebecca Kuzar — are working to raise $30,000 toward the potentially $1 million cost for his heart transplant needs. They launched the "Heart4Terry" campaign Tuesday through the National Foundation for Transplants.
---

Read next:
'After the plane crash, just about every day was Flight 93 in one form or another'
Shanksville Chief Terry Shaffer reflects on how his family is inextricably linked to the tragedy – and how they continue to honor the victims and the community
---
The fundraiser page listed a $30,000 goal to help the family cover post-transplant expenses, including the costs of post-surgery care and a lifetime's worth of anti-rejection medication.
"Health insurance will cover only a portion of the transplant cost," Kathie Shaffer wrote. "For the rest of his life, Terry will need follow-up care and daily anti-rejection medications. Post-transplant medications are very expensive and they are as critical to his survival as the transplant itself."
She said that Terry Shaffer, 66, has battled heart problems for years. He was born with a congenital heart problem that led to cardiomyopathy — an enlarged heart.
The longtime Pepsi-Cola employee had one of his four heart valves repaired when he was in his 50s — but in recent years, he developed congestive heart failure, an aneurysm and a life-threatening inflammation of his heart's inner lining, his wife wrote.
He was told in 2019 that a transplant was the only option to save his life — and if there's anyone out there who deserves it, it's Shaffer, said Brad Shober, Shanksville's deputy fire chief.
Shober described Shaffer as a natural "giver." He's known Shaffer for 35 years — and reminisced about the fire chief's involvement in local youth sports and the hundreds of times he's put his own life on pause to respond to house fires and emergency calls.
When Shanksville's annual community picnic — a homecoming of sorts — was in jeopardy a few years back, it was Shaffer who stepped forward and got the fire department involved to keep it going, Shober added.
"He cares so much about his community," he said, "and for all he's done, it's time we pay him back a little bit."
The Shaffer family said they are awaiting "the call" — news that UPMC Presbyterian has found him a strong match. In the meantime, Shaffer's health continues to decline, leading to reoccurring hospital stays.
He was admitted to a Pittsburgh medical center on Thursday to help alleviate his congestive heart failure, said Kuzar, his daughter.
"It's so difficult watching someone so active sort of fade away from so much ... because of that big heart he gave to so many," she said.
But it's been comforting to see people whose lives he has touched step forward and offer support, Kuzar added. As of 4 p.m. Tuesday, just hours after the family launched their campaign, $725 had already been donated.
"It means so much to us," she said.
___
(c)2021 The Tribune-Democrat (Johnstown, Pa.)
McClatchy-Tribune News Service

Request product info from top Firefighter Fitness, Mental Health and Wellness companies
Thank You!