PRESS RELEASE
Groves Inc. Introduces the Search And Marking Tool S.A.M.
---
use if there is a picture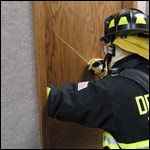 end picture
S.A.M. was designed to hold doors wide open during room to room searches. It lets you mark doors with a highly visible crayon at entry and after you've cleared the room.
Simply approach the door and test for heat as you would normally do. Use the high-visibility crayon to mark the door with a single slash to indicate a search in progress.  
Upon opening the door, place S.A.M.'s high tension steel hook over the lowest hinge. The high impact strength molded body fills the space between the door and jamb to prevent closing.
use if there is a picture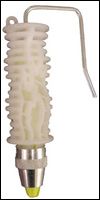 end picture
Search the room and exit, remove the S.A.M. and complete the X to mark the room as cleared.
About Ready Rack
Ready Rack open air storage systems from Groves Incorporated are the original turnout gear and Personal Protective Equipment organizational solutions designed to maximize storage space in fire stations. The Ready Rack family includes innovative gear storage systems including: hose drying racks, hose winders, backboard racks, SCBA storage systems and surplus gear racks.