PRESS RELEASE
Dakota Fire Systems™ aiming its firefighting gel sprayer at wider market
---
Rapid City, SD - Through a dozen wildfires in five states — including the recent Alabaugh Fire near Hot Springs — Rapid City-based Dakota Fire Systems has proven it can effectively protect homes from wildfire.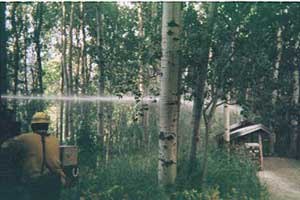 The service company's gel-spraying trucks have saved hundreds of homes from advancing flames.
However, Gorden Sabo, head of Structure Protection Specialists and inventor of its fire gel-delivery system, is the first to admit that his company can't fight all of the West's fires. That's why he has launched Dakota Fire Systems™, a new manufacturing company to make and sell gel sprayers to fire departments, government agencies and neighborhood associations.
"If every fire department in the West had one of these, we would save a lot of homes," Sabo said.
They have a small facility on Alberta Avenue — it's actually inside a shop building for Sabo Electric — and they've been making presentations to firefighter groups.
The gel units are small enough to be mounted on any type of truck. In fact, any pickup truck with a water tank can be turned into a structure-protection machine.
Fire protection gel has been around for a long time. Sabo, a firefighter with the Rockerville Volunteer Fire Department for 25 years, has been experimenting with different gel systems for a number of years.
Sabo's breakthrough is the system for spraying the gel on homes. The problem is that the gel-and-water mixture can't be mixed up in advance. It has to be done on site. In fact, Sabo's system mixes the gel and water right at the end of the spray nozzle.
The gel concentrate itself is a thin liquid with the viscosity of baby oil. When mixed with water, it becomes a pulpy, sticky gel that's about as thick as wallpaper paste. It's too thick to spray through a nozzle, and if it's thinned for spraying, then it doesn't do a good job of fire protection.
But if it's mixed right, the gel-water mixture will protect a house for three to five hours — several days if crews respray occasionally with plain water. Chemically, the gel has no fire-protection properties. What it does is hold the water to the wood and slow the evaporation process.
"The gel holds the water, and the water does the work," he said.
To demonstrate, Sabo dips a thin strip of wood into a tub of mixed gel. He holds a burning propane torch to the gelled wood, and nothing happens. He moves the torch to an ungelled section of wood. It immediately blackens, smokes and then begins to flame.
Sabo traveled to California to demonstrate a side-by-side comparison with a competing system. "Theirs failed in 15 seconds. Ours went 13 minutes before they called the contest," he said.
Sabo's system has mostly been applied to houses and other wood structures. But it can be used to protect propane tanks, boats, haystacks and log decks. During a recent fire, Sabo's crew sprayed down a log deck — a pile of felled and trimmed trees ready to be picked up by logging trucks — and it didn't catch fire.
A five gallon jug of Thermo-gel will mix with approximately 300 gallons of water which will cover a 2000 square foot structure. In fact, on some fires, fire managers have assigned water tender trucks specifically to keep Structure Protection Specialists supplied with water.
The systems are priced about $9,000. In addition, they are marketing a halo machine mounted on the fire trucks. In an emergency, the truck can actually gel itself.
One of their biggest challenges is to convince the U.S. Forest Service and other fire agencies that the Dakota Fire's MOTAK is an effective system for protecting threatened structures.
But with more people building expensive homes deeper in the woods, and with drought and fire a constant threat, the market for gel-spraying equipment such as the the MOTAK is bound to increase.

Click here for more information on Dakota Fire System's gel solution.