3 companies partner on more flexible firefighting glove
New structure glove makes fingers more nimble
---
Engineers at the DHS Science and Technology Directorate have partnered with commercial industry to develop a firefighter glove with more dexterity and a touchscreen-friendly electrostatic finger.
Designed by S&T's First Responders Group (FRG) in conjunction with partners from Shelby Specialty Gloves and NanoSonic, the new structure glove will offer a full range of movement and protection from the elements firefighters need in the field, said Greg Price, FRG's program manager.
The new glove is in response to firefighter complaints to S&T engineers that current firefighter gloves were too bulky, Price said.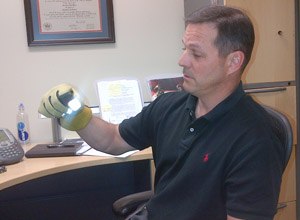 "They referred to them as oven mitts," he said.
S&T then solicited the marketplace to submit proposals on new firefighter glove designs. In response to the S&T solicitation, Virginia-based NanoSonic developed HybridSil, a Kevlar-based fabric with heat and puncture resistance components.
NanoSonic then partnered with Tennessee-based Shelby Gloves to put the fabric into a glove.
Price said the fabric and design of the glove now lets users more easily make a fist and grab an object whether a hose, an ax or door knobs. An electrostatic finger lets wearers use touchscreens on mobile devices.
Several iterations of the glove have been developed and underwent first responder testing, Price said.
"The whole lifecycle of the glove, from inception to marketplace, has been driven by first responder feedback," Price said. "Our primary goal is to get the requirement from the first responder, include them in development and then connect to the field assessment."
Their feedback led to alterations in the glove's design, including improving the puncture resistance and dexterity and updating the interior fabric as beta-testers complained it was too slippery when wet.
While the firefighters prefer a form-fitting, racecar-like glove, science isn't quite there yet.
"What we have come up with is the next-generation and best step closer to that Holy Grail — from the current design that fits like an oven mitt to one with better dexterity that exceeds NFPA standards for thermal and puncture," Price said.
The project also sparked interest in developing women's fit gloves.
"It was brought up during field assessment that their needs to be a structure glove that is a better fit for female first responders," Price said.
Price expects the new glove to be available to first responders by late 2014.