No need to lose protection to gain dexterity
The new Victory Structural Fire Glove from LION incorporates design features that give you more finger control without compromising the level of thermal protection
---
By Robert Avsec for FireRescue1 BrandFocus
When it comes to the elements of their structural firefighting ensemble, PPE, most firefighters will tell you that the one element of the ensemble that they wish was better is the fit of their firefighting gloves. And if you asked them what about their gloves' fit that gives them "fits" many would tell you:
"Initially finding a glove that fits and feels good and provides good dexterity" (A common complaint for many female firefighters).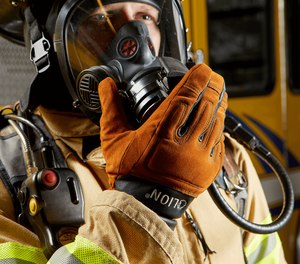 "Getting the gloves off (doffing), once they become wet, and then trying to get them back on (donning)."
And those sentiments represent two of the significant challenges faced by firefighting glove manufacturers. The other, of course, being the cost of their firefighting gloves.
FIRST, SOME FIREFIGHTING GLOVE BASICS
Every fire department and its firefighters are looking for firefighting gloves that provide a good fit along with good dexterity (e.g., handling hoses and firefighting tools) a subject addressed in Tips to getting the right glove. And they're looking for a glove that also provides good thermal protection. Let's look at those two requirements in reverse order.
When designing firefighting gloves design engineers for the manufacturers seek to give firefighters a glove with good thermal protection from two hazards:
Compression burns (when picking up a hot object).
Radiant heat (primarily on the back of the hand).
To accomplish those goals, and have a glove that is compliant with the specifications for firefighting gloves found in NFPA 1971: Standard on Protective Ensembles for Structural Fire Fighting and Proximity Fire Fighting  (2018 Edition), glove manufacturers commonly use a three-layer approach to provide that thermal protection using:
An outer shell (e.g., leather, PBI, Kevlar, Nomex, and combinations).
A moisture barrier (e.g., Gore-Tex).
A thermal barrier (e.g., padding designed to trap air and provide insulation).
THE QUEST FOR BETTER DEXTERITY
The priority for firefighters when selecting a firefighting glove should be to get the proper fit. But that must be balanced with the level of thermal protection a glove can provide. Too many firefighters select a glove that fits too tight because they believe that a tighter glove equates to greater dexterity (especially once the glove becomes wet).
However, when firefighters choose a glove that's too tight, it can compromise the level of thermal protection afforded by a glove. Gloves that are too tight compress the thermal barrier (the previously mentioned third layer of padding), resulting in less trapped air, less insulation from heat and greater potential for heat to be transmitted to the hand.
There is also the "too loose" scenario, as some firefighters select a glove with a loose fit so they can don and doff them more easily (particularly when wet). But gloves that are too loose tend to decrease a firefighter's level of dexterity. That is frequently cited by firefighters as their reason for removing their firefighting gloves in the hazard area (e.g., lacking the dexterity to operate the controls on their portable radio or SCBA control module).
There is a high probability that the glove you've been seeking has arrived: The innovative Victory Structural Fire Glove from LION. Innovative because the Victory Structural Fire Glove is true 3-D continuous pattern glove that features LION's Kontour thumb, and individual sidewalls in each finger that give you more control. These features translate into the greater degree of dexterity you demand from your structural firefighting gloves.
FIRST LAYER: OUTER SHELL
You also want a glove that's both lightweight and flexible, right? LION heard you and made the Victory glove with a soft, yet durable, outer shell using water repellent goatskin split leather. That lightweight and flexible outer shell gives you greater comfort when you're working and helps reduce muscle fatigue at the same time.
SECOND LAYER: MOISTURE BARRIER
For that all important second layer of protection, the moisture barrier, LION uses the Gore Crosstech Moisture Barrier in the Victory Structural Fire Glove. The Crosstech Moisture Barrier provides a superior level of protection from liquid penetration (keeping the bad liquids out) while also delivering outstanding breathability (letting the good liquid – your perspiration – out to help keep you cooler) that aids in reducing heat stress while engaged in firefighting tasks. To prevent those bothersome liner pull-outs when doffing your gloves, LION and GORE collaborated on an enhanced attachment method that keeps liners in place.
THIRD LAYER: THERMAL PROTECTION
The Victory Structural Fire Glove uses an aramid-wool blend for that inner most layer – with added padding on the back of hand (where you need it most) to give you better thermal protection from radiant heat.
BEYOND THE "BIG THREE"
The Victory Structural Fire Glove has you covered for the "Big Three" – the outer shell, moisture barrier, and thermal barrier. But there's more.
That "more" includes additional reinforcement in high-wear palm and thumb, palm layers stitched down with 100% Kevlar high-burst thread for a stronger grip, and leather pull-tabs for easier donning and doffing. And the Victory Structural Fire Glove makes it possible for every firefighter – woman or man – to get the right fit from the outset with an array of sizes:
Regular Sizes: XXS through 4XL
Cadet: Sizes: S through XXL
In the all-important "How much does the Victory glove cost?" question, firefighters and fire chiefs alike will be happy to learn that the Victory Structural Fire Glove is priced in the $80-$90 range.
TAKING THE VICTORY GLOVE FOR A "TEST FIT"
I had the opportunity to give the Victory Structural Fire Glove a test fit. First off, I was impressed by the level of softness in the leather outer shell. After donning the gloves for the first time, I was taken back to my youth as the Victory gloves felt like my favorite well-oiled and broken-in baseball glove. (They'd make outstanding gloves to wear when playing the 16-inch brand of softball that's popular in Chicago!).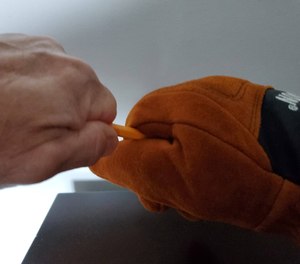 Donning the gloves was a "snap" because the leather pull tabs did just that: They "pulled" from the center of the glove for a much more even pull onto my hands.
And the level of dexterity right out of the package was incredible. I put on a glove on my non-dominant hand and then gripped a #2 wooden pencil and tried as hard as I could to pull the pencil out of my grip with my bare dominant hand without success.
With all those features, at that price, the Victory Structural Fire Glove is a welcome addition to the LION family of structural firefighting gloves.

Request information from Witmer Public Safety Group, Inc.
Thank You!