The expanding world of gloves for firefighters and their jobs
Protecting your hands is a requirement for the job. These gloves deliver protection, fit and performance.
---
By Robert Avsec for FireRescue1 BrandFocus
Very few vocations (or in the case of volunteer firefighters, avocations) have such a diverse need for personal protective equipment than that of firefighters. Today's firefighters can be called upon to deliver the following services:
Combat a structure fire.
Extricate a severely injured patient from a vehicle crash.
Combat a fire in a wildland urban interface area of their community.
Conduct a confined rescue when a contractor had a heart-attack while working in a utility tunnel.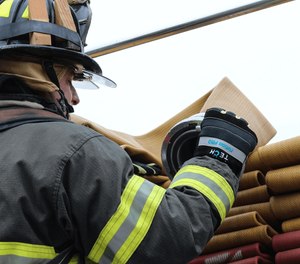 Whatever the job they're called upon to do, however, there's one requirement that all firefighters have and that's to have proper protection for their hands. And that means having gloves that work with them, not against them.
APPLICABLE NFPA STANDARDS
Gloves are obviously an especially important part of the firefighter's protective equipment for any type of emergency to which they might respond. The requirements for gloves are included in all the NFPA standards that address firefighter protective equipment, clothing, and ensembles:
NFPA 1971 Standard on Protective Ensembles for Structural Fire Fighting and Proximity Fire Fighting
NFPA 1851 Standard on Selection, Care, and Maintenance of Protective Ensembles for Structural Fire Fighting and Proximity Fire Fighting.
NFPA 1855 Standard for Selection, Care, and Maintenance of Protective Ensembles for Technical Rescue Incidents.
NFPA 1977: Standard on Protective Clothing and Equipment for Wildland Fire Fighting.
NFPA 1999: Standard on Protective Clothing and Ensembles for Emergency Medical Operations.
When you're in the market for structural firefighting gloves, it's important to consider fit and thermal protection. Use the NFPA 1971 firefighter glove sizing standard to find the best fit for dexterity and protection from compression burns and radiant heat.
PRO-TECH 8 GLOVE SERIES
The Pro-Tech 8 series of firefighting hoods and gloves give you and your fellow firefighters a choice of gloves that fit the wide variety of calls for service that you respond to. From structural firefighting gloves to extrication gloves to gloves for technical rescue work, there's a Pro-Tech 8 glove to give you the fit and protection that your job demands.
The Pro-Tech 8 series of NFPA 1971-compliant (2018 edition) structural firefighting gloves gives firefighters a range of glove options. Structural firefighting gloves in the Pro-Tech 8 series have these common features:
Porelle PTFE moisture and bloodborne pathogen barrier.
100% Nomex knit or 100% Modacrylic inner liner.
Flexible finger sidewalls of Kevlar and Nomex to maximize dexterity.
Palm layers stitched down with high-burst Kevlar thread to strengthen grip.
Multi-layer design that reinforces vulnerable areas and features Pro-Tech 8's exclusive Knuckle Guard.
Leather pull tabs for easier donning and doffing.
The Pro-Tech 8 TPR Gold Structural Glove has a suede goatskin palm that's more durable, flexible and lighter than cowhide because goatskin has a high natural oil content which makes it soft, pliable and water-resistant. The TPR Gold glove also offers advanced protection and durability with fire retardant TPR and Gel Pads (which also enhances the grip) in the most vulnerable areas, so you don't have to sacrifice flexibility or dexterity.
The Pro-Tech 8 Fusion PRO Structural Glove exceeds NFPA 1971 specifications in all categories and has the highest level of breathability of any structural glove moisture barrier. The Fusion Pro is also compliant with ASTM F903: Standard Test Method for Resistance of Materials Used in Protective Clothing to Penetration by Liquids, for resistant to viral and bloodborne pathogens as well as industrial chemicals.
The Pro-Tech 8 Titan-K PRO Structural Glove is constructed using kangaroo leather – the strongest, most durable leather available. The Pro-Tech 8 multi-layer design, coupled with the unique strength and flexibility of kangaroo leather, results in a structural firefighting glove that achieves a higher level of protection and performance. The Pro-Tech 8 Titan PRO Structural Glove is the same as the Titan-K PRO but uses goatskin leather rather than kangaroo leather.
WILDLAND FIREFIGHTING GLOVES
Wildland firefighters and structural firefighters who have wildland urban interface (WUI) areas in their communities need a glove that can withstand the effects of flame and heat. But they also need a glove that can provide an acceptable level of protection from other risks such as hazardous liquids (although wildland gloves do not have moisture liners and are not tested against any chemicals). The liner is for comfort, to reduce fatigue and protects against sharp objects as we've seen in the massive wildland fires in California and other Western states the past few years.
The Pro-Tech 8 Wildland Firefighting Glove is an NFPA 1977-compliant glove that starts with a full grain cowhide suede leather outer shell that resists cracking, peeling, stiffening, and water damage and provides maximum grip and dexterity, even when wet.
Its moisture wicking modacrylic inner liner is sewn in at each fingertip to provide better thermal protection, comfort and moisture wicking capabilities. The reinforced palm and thumb enhance durability and grip, while the independently cut and sewn finger sidewalls enable maximum dexterity and flexibility. Finally, 100% Kevlar high-burst thread is used throughout the gloves to provide strength and durability.
TECHNICAL RESCUE GLOVES
Looking for technical rescue gloves that can meet the variety of challenges presented by technical rescue calls for service? The Pro-Tech 8 series has you covered there as well with a glove that covers hand protection without sacrificing dexterity. There are three types:
The Pro-Tech 8 Stinger Rescue & Multi-Purpose Glove is the only rescue glove on the market with a TPR flame-resistant and impact resistant outer shell. TPR material, also known as thermoplastic rubber, is a material that has properties of both plastic and rubber. It is lightweight and has good abrasion resistance, good tear strength, weather resistance, and electrical-resistance properties. Together with rubberized Kevlar and Kevlar/Nomex fabric, the Pro-Tech Stinger just might be the only non-structural firefighting glove you need.
The Pro-Tech 8 B.O.S.S. Multi-Purpose & Cut Resistant Glove is another multi-purpose glove that gives you the confidence to do any non-firefighting operations (e.g., technical rescue, vehicle extrication, clean up) more safely, effectively, and efficiently. The Pro-Tech 8 B.O.S. is the most advanced and innovative multi-purpose gloves on the market today owing to its unique characteristics: rubberized Kevlar on fingertips and palm to provide resistance to some oils and acids; 100% high-burst Kevlar thread used throughout for strength and durability; and silicone-coated Kevlar palm and finger sidewalls that have an ANSI Level A3 cut resistance rating.
Its Kevlar outer layer and the silicone-coated Kevlar 4mm padded palm give the user of the Pro-Tech 8 I.C.E. Industrial, Collapse, and Extrication Glove reliable vibration, abrasion, and cut resistance. While the Kevlar coated fingers, backside, and thumb crotch protect specific parts of your hand with ANSI Level A5 cut resistance, the silicone fingertips enhance user grip to limit hand fatigue, even during extended rescue operations, while providing ANSI Level A4 cut resistance. And if all that is not enough, the glove's soft, water resistant Kevlar inner liner provides an extra layer of comfort and protection, and its gathered wrist stitching and a long elastic cuff band prevent debris from entering the glove.
UTILITY GLOVES
Lightweight, flexible, and comfortable, Pro-Tech 8 Abrasion Resistant Utility Gloves are made of a durable and breathable lightweight nylon stretch fabric that will make you give up ordinary leather utility gloves for good. Pro-Tech 8's Utility Gloves will effectively protect your hands from cuts, abrasions, and other hazards while you're working on a ladder, using tools, rolling hose or cleaning up.
But durability and breathability are just two of this glove's virtues. The Zobatex Level 3 palms provide excellent abrasion resistance, while the raised molded protective knuckle guards protect your knuckles from potential hazards. Reinforced leather tapered fingertips enhance your dexterity and grip to provide you with better control.
 
Looking for a "utility glove on steroids?" The Pro-Tech 8 B.O.S.S. High-Heat Utility Glove is the glove you've been looking for. The B.O.S.S. (Best Offensive Safety Solution) utility glove was designed with firefighters in mind to provide serious protection in a wide range of demanding operations, including fire scene cleanup and vehicle extrication.
The B.O.S.S. utility glove features a breathable, water-resistant stretch nylon glove back for better flexibility and comfort. The silicone coated Kevlar palm and finger sidewalls provide Level 3 cut resistance. Rubberized silicone reinforcements on the palm and fingertips provide an enhanced grip and can withstand temperatures of up to 1000° F for 20 seconds.
Whatever the job you're called upon to do, there's a Pro-Tech 8 glove that can give you the hand protection you need and the dexterity you can't do without. And that means having gloves that work with you, not against you!

Request information from Witmer Public Safety Group, Inc.
Thank You!