Hazmat response: Initial location and identification of hazard facilities
Resources to identify and preplan facilities with hazardous materials that can threaten community safety
---
Every municipality, district or region has hazardous materials at fixed sites or in transit via roads, rail or waterways. As such, it's essential that fire departments locate and identify the jurisdiction's hazard facilities and their associated substances and products, so teams can develop thorough preplans and respond with the proper complement of resources and staffing.
Step one in this process is knowing what constitutes a hazardous material. A hazardous material is any substance or product that, when in sufficient quantity or level of risk, threatens community health, safety and environment.
Some hazmat locations may be easily identified, like a propane fill station or placarded tractor-trailers carrying gasoline or diesel. Other hazards aren't as obvious, like the storage closet of a hair salon or even the contents under a homeowner's sink.
Firefighters must ask themselves: What in my area could be hazardous to life and property – and where is it?
Hazard locations and regional response efforts
Knowing what to look for and where it is located will go a long way in mitigating a hazmat incident when it strikes your jurisdiction.
Most regional hazmat response units, along with state Divisions of Emergency Management, provide local emergency responders with comprehensive lists of specific businesses and their corresponding use of hazardous products. The following is a sample of what you may find in your area:
Airport and marine fuel depots
Chemical manufacturers
Cleaning agents and cosmetics
Construction firms and sites
Dry cleaners and laundries
Educational and vocational shops
Equipment repair
Farm/garden supply shops
Food warehouses
Furniture/wood manufacturing and refinishing
Gas stations
Gun/ammo shops
Hospitals
Laboratories
Leather tanners
Motor freight terminals and railroad transportation
Pest control
Plastic and rubber makers
Printing presses
Pulp and paper mills
Water treatment facilities
Welding shops
These businesses can contain a host of dangerous chemicals, such as gasolines and fuel oils, alcohols, acids/bases, heavy metals/inorganics, solvents, compressed gases, pesticides, fertilizers, radioactive materials, poisons and other chemicals.
Superfund sites, business and industry zones, as well as locations described in the Superfund Amendments and Reauthorization Act (SARA) Title III and Tier II, and the Department of Transportation, utilize the Incident Command System (ICS) unified command model to initiate, maintain and resolve a hazardous substance incident in the areas identified above.
Regional hazmat response teams have detailed analysis of hazardous materials throughout their areas of protection. Fire departments, law enforcement and certain governmental agencies, such as community planning, public works and transportation, have real-time access to such data and can coordinate quickly with state and federal resources.
Of course, there are the locations and situations that are not immediately evident without training and education over and above documented sites and substances. Hotel maintenance personnel mix bleach with a drain cleaner to clear a clogged pipe and the property is evacuated and declared contaminated. A homeowner uses paint stripper in a small bathroom and is found unconscious. A fire crew checking for survivors wears SCBAs for an active carbon monoxide detector measuring 1,200 ppm.  
Remember, there are many hazard locations that can be missed by fire departments during preplanning efforts, perhaps because the sites and transportation involve smaller amounts than are required for notification, or due to changes in occupancy and storage, and of course the existence of illegal operations involving dangerous chemicals. Crews should maintain situational awareness for signs of hazardous materials on scene.
Identification by description and use
Once hazmat sites have been located, it's time to identify the types of hazards present.
Formal identification of hazardous materials begins with the United Nations in cooperation with countries and administrative and governmental agencies throughout the world. The United Nations has catalogued hazardous materials into nine separate classifications encompassing the five hazard characteristics:
Corrosives
Reactives
Caustics/irritants
Flammables/explosives
Toxics/poisons
Their marking system includes the exact information that must be included on each label or placard. Such information includes chemical descriptions, proper shipping names and a specific code for each substance or compound, such as 1203 for gasoline or 2506 for Ammonium hydrogen sulfate.
United Nations Hazardous Material Classes include:
Class 1 – Explosives
Class 2 – Gases
Class 3 – Flammable Liquids
Class 4 – Flammable Solids
Class 5 – Oxidizing Substances and Organic Peroxides
Class 6 – Toxic Substances and Infectious Substances
Class 7 – Radioactive Materials
Class 8 – Corrosive Substances
Class 9 – Miscellaneous Hazardous Materials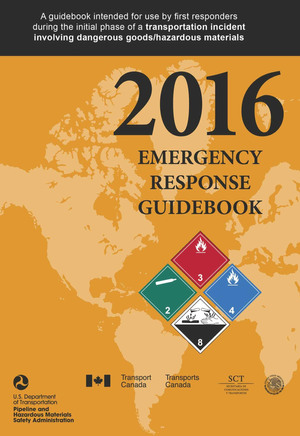 Identification for trained first responders starts by adhering to the guidelines established in the Emergency Response Guidebook, issued by Department of Transportation (DOT). Specific chemical information is available from the Safety Data Sheets, previously known as Material Safety Data Sheets or MSDSs. These are available from the manufacturer and are required to be available on site or with the bill of lading for the product.
Additional resources include the National Institute for Occupational Safety and Health (NIOSH), CHEMTREC, and regional and private contractors dealing in hazardous substances.
In the world of commerce and industry, quantities of substances specified are under the jurisdiction of Section 112(r) of the Clean Air Act Amendments. Under this federal agreement, all industries, businesses and companies utilizing threshold quantities of designated materials must have a Risk Management Plan (RMP) submitted to the Environmental Protection Agency (EPA). Such requirements are vital to pre-planning and response criteria within a district or region.
Government agencies, such as NFPA, FEMA and private industry, have various signs, placards, containers and accounts to standardize the labeling and ultimate identification of hazardous substances.
NFPA 704: Standard System for the Identification of the Hazards of Materials for Emergency Response is a labeling system for use by first responders to gauge the severity of various threats including flammability, instability, special precautions and health. These labels can be seen on warehouses, vehicles, containers and anywhere it is deemed necessary.
Private industry works closely with government agencies to develop recognizable warning systems including labels, markings, identifiable containers and product information.
Response efforts to hazmat incidents
Vapors released, liquids flowing and explosions sounding – these are the signs of a hazmat emergency.
The first person on the scene of a hazmat incident might be a DOT highway truck driver, a firefighter/EMT dispatched to a routine alarm for an unknown medical, or a cadre of fire crews called out to an explosion at a factory. Whatever the scenario, the response begins with the initial-arriving crews, followed by expanded command and control, from local to regional response.
Regional hazmat teams know where to place resources and personnel. The key is to connect your regional response under the state and federal response umbrella while keeping local concerns at the forefront.
Remember, all agencies and departments have access to the same information and equipment under operational rules once a hazmat emergency has been located and a regional response authorized.
Any breach of material or product deemed to be threatening to life and environment beyond regional capabilities will be handled by state and federal resources.
Preparation and training matter
An agency's ability to successfully mitigate a hazmat incident is the responsibility of every first responder, politician, government worker and even the community members who must report the hazards following proper procedures.
Fortunately, hazmat incidents have the advantage of being so severe in their consequences that fire/rescue, law enforcement and EMS teams work closely with government and industry in response coordination, resource management and accountability.
Further, in addition to governmental response criteria, business and industry utilizing hazardous materials have ongoing hazard assessment programs, including history, prevention and safety measures.
The bottom line: Cooperation is the key to having defined levels of training, adequate personnel at each response level and enough equipment to carry out all of the required jobs associated with appropriate deployment for a hazmat incident. Because at the end of the day, whether from the bed of a pickup with that orange book in the glove compartment or in the middle of a state-of-the-art communications center, trained and focused personnel are critical to any hazmat incident.

Request product info from top Hazmat Equipment companies
Thank You!