PRESS RELEASE
Complete Protection from A to B, Saint-Gobain Gives Firefighters a First-Look at the Newly Certified ONESuit Shield
---
use if there is a picture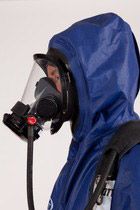 end picture
Merrimack, N.H. – Saint-Gobain Performance Plastics introduced its first Level B hazmat suit, ONESuit Shield, to firefighters at the Fire Department Instructors Conference (FDIC) in Indianapolis, IN, March 24-26. The new suit was recently certified to the National Fire Protection Agency's (NFPA) 1992 standard for protection against chemical splash and 1994 class 2 standard which assures users maximum protection against chemical and biological agents.
By adding ONESuit Shield to its portfolio of single-skin protective garments, Saint-Gobain now offers emergency responders a full portfolio of both Level A and Level B suits certified to stringent NFPA standards. "Firefighters who are looking for increased mobility with uncompromised protection can turn to ONESuit for protection from harmful agents in both vapor and splash form," said Peter Kirk, Market Manager, Saint-Gobain Performance Plastics.
Level A suits are used to safeguard emergency responders from unknown airborne chemical or biological agents, utilizing a fully encapsulated self contained breathing apparatus (SCBA). With Level B suits, the first responder's self contained breathing apparatus (SCBA) is worn outside the suit for protection during CBRN or chemical splash exposure.
use if there is a picture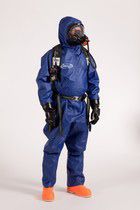 end picture
ONESuit Shield's unique face mask interface is seamlessly engineered for an air-tight configuration, assuring maximum protection. The lightweight design enhances comfort for firefighters, law enforcement, and other emergency responders working in the hot zone.
"ONESuit Shield is truly a product born from market demand. Firefighters have been asking for the comfort of our innovative materials in a Level B suit for years and we're happy to meet that need," said Kirk.
All ONESuit products feature a lightweight, single-skin design, along with Saint-Gobain's state-of-the-art protective material, making them more flexible for maximum comfort and maneuverability. In addition to the new ONESuit Shield, the company's line of products include ONESuit Pro, the industry's most affordable hazmat suit certified to the NFPA 1991 standard, ONESuit Flash, ONESuit Gard, and ONEGlove Hazmat.
About Saint-Gobain Corporation
Saint-Gobain Performance Plastics (SGPPL) is a subsidiary of Saint-Gobain, one of the top 100 industrial companies in the world and a leading producer of construction products, flat glass, high-performance materials and packaging. Saint-Gobain Performance Plastics produces the ONESuit line of chemical protective hazmat products. For more information visit www.onesuittec.com or contact Peter Kirk at (603) 424-9000 or protectivesystems@saint-gobain.com.