PRESS RELEASE
Holmatro is now a proud supplier of IMSA
---
World-Class safety company to provide rescue tools to International Motor Sports Association (IMSA) safety team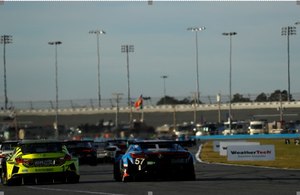 As part of the new agreement Holmatro will work with the IMSA Safety Team to provide vehicle extrication equipment along with training to support local crews and ensure the highest standards.
"Holmatro has a long history in motorsports safety, and in fact over the years Holmatro tools have played a part in the rescue of several drivers," said Tony Barboza, Vice President of Sales and Marketing, Holmatro, Inc. "As the biggest supplier of extrication equipment to motorsports safety teams, we're proud of our new partnership with the IMSA safety team and look forward to supporting them in their mission of proving safety for the drivers in all of their events."
"Safety is a top IMSA priority," said David Pettit, IMSA Senior Vice President, Marketing and Business Operations. "We have an expert AMR Safety Team that now has an expanded toolbox with advanced equipment and services from Holmatro. The companies is considered a leader in its industry and we are proud to be associated with them."
From Race to Road Safety 
Having supplied tools for the IndyCar Safety Team since 1991, Holmatro has become the leader in supplying high tech rescue equipment to assist in the quick and safe extrication of race drivers following incidents on track. Holmatro's cordless, portable and powerful tools are ideal for the on track environment, where drivers need to be extricated from carbon fiber monocoques and high-strength roll-cage structures. Over the years it has been Holmatro's goal to translate their learning in the extreme racing environment into innovative rescue tools that raise the level of global postcrash response on our streets and highways. As of 2019, Holmatro is the official supplier of the FIA Safety and Medical departments.
About Homatro 
Holmatro is a leading rescue equipment manufacturer founded in the Netherlands in 1967. It is the single biggest global supplier of innovative high-pressure hydraulic rescue tools, with manufacturing facilities in the United States and the Netherlands. With over 400 employees, it has three headquarters worldwide to serve authorized business partners in more than 160 countries.
 About International Motor Sports Association (IMSA)
The International Motor Sports Association (IMSA) is a North American auto racing sanctioning body based in Daytona Beach, Florida under the jurisdiction of the ACCUS arm of the FIA. It was founded in 1969 by John Bishop, a former executive director of SCCA (Sports Car Club of America), and his wife Peggy with help from Bill France, Sr. of NASCAR. In 2014 IMSA became the sanctioning body of the WeatherTech Sports Car Championship, the premier series resulting from the merger of Grand-Am Road Racing and the American Le Mans Series presented by Tequila Patrón. IMSA is owned by NASCAR, as a division of the company.

Request more info from Holmatro USA
Thank You!