PRESS RELEASE
Blackjack Helmet Flashlight Holder Nominated for Cooper-Hewitt People's Design Award
---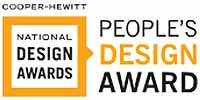 end picture
New York, NY -- The Blackjack helmet flashlight holder by 1445 Designs has been nominated for a prestigious Peoples Design Award from Cooper-Hewitt.
The Blackjack was nominated by a long time firefighter, "In my career - 27+ yrs - as a firefighter, aside from the SCBA, a flashlight is my most important tool when fighting a fire in a smoke-filled building. Most flashlights are designed to hang on your turnout coat and are awkward to use when crawling on your hands & knees. Helmet-mounted lights are ideal for this purpose, but, the vast majority of mounts are not durable enough - I've been through about 4 different ones before I came across the Blackjack. This is a brilliant design, one of those 'why didn't I think of this?!' products. It's simple, bomb-proof and it works!"
You can view their nominee page here .