PRESS RELEASE
FoxFury increases brightness of Performance Intrinsic Fire Headlamp
---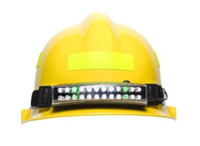 The FoxFury Performance Intrinsic Fire Headlamp, rated UL-913 Class 1, Division 1, Groups A-D, T6, is ideal for Dark Hazardous environments, offering increased brightness and hands-free capabilities.
With the latest advancements in LED Technology, the 24 LED (20 White & 4 Green) configuration has increased by 15% to a light output of 41.4 Lumen (520 Candlepower). The headlamp's wide design offers optimal peripheral vision and enhanced area lighting.
Its Quick Tilt (45°) feature permits the light to be adjusted when needed to reduce head and neck strain in difficult environments.
The Performance Intrinsic Fire is safe for Hydrogen and Acetylene Environments, and designed ideally for use in Structural / Wildland Fire Fighting, Hazmat, and more. Competitive lights for these environments (with similar certification) largely tend to be flashlights or box lights.
The Performance Intrinsic, at 10.1 oz (287g), is lightweight with an even weight distribution on one's hard hat or helmet.
This model is powered with 4 AA batteries and offers up to 20 hours of usable light (battery quality and ambient conditions may affect battery life).
The FoxFury Performance Intrinsic Fire, p/n 400-FF417-5, is Waterproof to 20 ft (6m), Fire and Impact Resistant.
MSRP $129.99 Performance Intrinsic Fire Product Page