Spotlight: Animated Data, Inc. offers fast dashboard, extensive performance summary
StatsFD is designed to improve performance by pushing feedback to first responders on duty
---
Company Name: Animated Data, Inc.
Headquarters: Saint Petersburg, Florida
Signature Product: StatsFD
Website: http://www.statsfd.com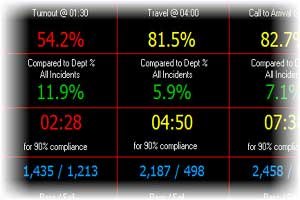 Animated Data, Inc.'s StatsFD is a desktop application with three distinct missions. First is to analyze fire department operations using every contemporary calculation. The second is to automatically monitor performance 24/7. Finally, StatsFD automatically publishes targeted reports to staff via iPhone, iPad, Android phones and tablets.
Where did your company name originate from?
You can't always spot statistical trends on static graphs and performance maps. The name Animated Data, Inc. was selected because our products animate statistics, making operational trends easy to spot and communicate to others.
What was the inspiration behind starting your company? 
Animated Data, Inc. was founded in 2002. At the time, NFIRS 5 was a fairly new incident reporting standard. Fire departments were putting a lot of effort into NFIRS 5 data entry, but their CAD & RMS applications were providing only minimal reporting capability. Animated Data, Inc. was founded to add contemporary analysis to any existing records management or CAD system. The goal was to make statistics quick and easy.
Why do you believe your products are essential to the Public Safety and Security community?
If you go behind the scenes of any fast food restaurant these days, the manager has a color monitor with live performance statistics tracking orders, production and delivery in real time. If statistics are that important for fast food, it's vital to have automatic analysis of emergency operations.

What has been the biggest challenge your company has faced?
The biggest challenge has been changing technology. In 2002, most computers were desktop PCs. Now, in addition to desktops, there are laptops, tablets and smart phones. Rather than printing all statistics to paper, the new platforms allow publishing statistics and performance maps directly to all types of mobile devices.
What makes your company unique?
Many products create paper statistics for year-end reports, StatsFD does that too, but it also takes the next step by automatically delivering performance feedback directly to responders. Using PCs, tablets, smart phones and text messaging, StatsFD communicates performance in near real-time.  Responders get the feedback they need to compare and improve performance.
What do your customers like best about you and your products?
Two things come to mind: First, StatsFD allows senior staff to dig-deep and get to the root of deployment issues affecting performance. Accreditation calculations are pre-programmed and fast.  Second, StatsFD doesn't just work for senior staff; it's designed to automatically push feedback out to the people who work in the streets. It involves everyone in the single objective of improving performance.

What is the most rewarding part of serving the first responder community?
A chief officer once told me his company officers, "Live and breathe the dashboard." The StatsFD dashboard is an extensive performance summary that's updated hourly. Responders were checking that summary several times a shift. That was rewarding to me, because when people doing the work take a real interest in performance everything improves.

Is there any fun fact or trivia that you'd like to share with our users about you or your company?
StatsFD, and NFIRS 5 Alive before it, have been used by a fire consulting company to crunch the numbers for about 12-24 Standard of Cover (SOCs) per year for the past decade. The same technology used by the fire consulting firm is made available and constantly updated for use by fire department personnel.

What's next for your company? Any upcoming new projects or initiatives?
Recently, StatsFD added support for Dropbox, Google Drive and other applications used to share files out to iPad, iPhones, Android phones and tablets. All HTML reports and maps are designed to work without a web server and can be accessed 24/7 by simply opening up the shared folder application on any supported mobile device.