Practice makes perfect – simplify MCI management with regularly used tools
Building muscle memory eases stress during critical emergencies
---
Sponsored by Pulsara
By Courtney Levin, FireRescue1 BrandFocus Staff
According to the U.S. Census, 29.15 million people lived in Texas in 2020. Estimates for 2022 show that figure has likely surpassed the 30 million mark as the Lone Star State continues to see a huge influx of new residents. Providing emergency medical care to that many people is an extraordinarily tall task, but one the state has worked to improve upon in recent years.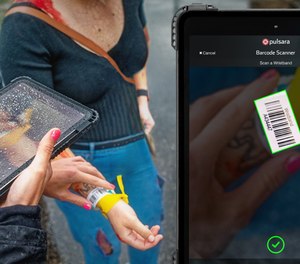 The tipping point came in 2020 as COVID-19 presented the United States with unprecedented medical challenges. Residents in Texas who needed specialized hospital care due to the virus were often caught in a tangle of delays, as medical teams weren't always working from the same playbook.
"We heard stories across the state where multiple fixed-wing aircraft showed up at the wrong airport to pick up the wrong patient," said Joey Branton, senior vice president of strategic initiatives at Pulsara. "They were making a minimum of 30 phone calls per patient transfer."
While the pandemic put immense pressure on first responders and the health care system, mass casualty incidents like active shooters and natural disasters didn't stop. It quickly became clear that those in Texas needed a better way to manage patients from start to finish.
A statewide wristband system was put in place to give every patient a unique ID that could be used across organizations. But it was the coupling of that initiative with the Pulsara platform which enabled fire and EMS providers to significantly improve their level of care.
Pulsara helps streamline communication between first responders during single-patient events and mass casualty incidents. As with any skill, confidence in using this tool comes through the muscle memory built up through regular use. "First responders in Texas realized to be truly proficient at using the efficiencies provided by the Pulsara platform, they needed to use it every day," said Branton.
A NEW ASPECT OF PATIENT CARE
When a 911 call comes in, fire crews are often the first ones to arrive on scene. They work to assess the condition of a patient and begin providing treatment until EMS arrives. Once the patient has been transported, they head back to the station until it's time to repeat the process.
On the surface, a fire department's involvement might seem minimal considering all of the emergency personnel one patient will come into contact with. However, the patient data gathered with Pulsara during this initial contact is critical to ensuring optimal care during each subsequent medical encounter.
With the Pulsara platform, starting a patient channel takes a matter of seconds. Using an Apple or Android smartphone, a firefighter can launch the Pulsara app and uniquely identify their patient in one of several ways. In states like Texas, a wristband is applied to the patient and scanned into the app. First responders can also scan a patient's driver's license to enter their name and basic information, or even take a picture of the patient if no identification is present.
The Pulsara patient channel is accessible to all providers who come into contact with the patient and join their care team, allowing them to view ECGs or images from the field, conduct audio or video calls with physicians, send out alerts and more.
"We've created this interoperability where people can communicate seamlessly," said Branton. "If you're a Pulsara user, I can add you to a Pulsara channel any way I want to. Once you get on that channel, I don't need to know who you are, who you work for, what your role is – you were brought in for a reason."
While it takes only a few moments to start a patient channel, getting into the habit of using Pulsara on every call takes some practice.
"If you build that muscle memory every day, when you've got a calamity on your hands of 10 or 20 or 30 patients, the entire system has the muscle memory to scale up on demand," Branton explained.
LOOKING AT THE BIGGER PICTURE
Using the Pulsara platform during an MCI exponentially reduces the chance of a patient receiving the wrong medical treatment or, at worst, not being able to be located. It also allows first responders to communicate seamlessly during incidents when stress levels are high and decisions must be made at a moment's notice.
"What we've learned is you can unite all of these people at a time of great urgency – mass casualty, evacuations, hurricanes, tornadoes or active shooters," said Branton. "We can say, 'Well, you're all going to be involved in this, so why don't we all communicate using one communication tool that you've got in your pocket anyway?'"
This level of communication isn't just important when dealing with multiple patients, as every individual a fire crew comes into contact with plays a role in the larger community health care system.
Pulsara provides instantaneous awareness of what's happening in the community, no matter how minor or major it is, says Branton. When a fire crew can alert hospitals ahead of time, patients can be routed according to the level of care they need.
"Firefighters are responsible for the overall health of their community, and that includes the health of the health care system – its viability, reliability and availability – on any given day," he said. "Pulsara creates a holistic experience for everyone involved. I can better understand what my little emergency today means in the bigger picture of what's going on in the community."
Visit Pulsara for more information.
Read next: 6 ways a new patient tracking tool can improve major incident response

Request information from Pulsara
Thank You!