PRESS RELEASE
Everbridge + D4H: The ultimate way to launch and manage incidents
---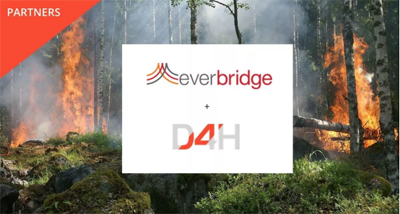 Everbridge and D4H have announced that organizations can now leverage the Everbridge Critical Event Management Platform and D4H Incident Management together. Combining two of the world's most powerful technologies to create the ultimate solution to launch and manage incidents.
These two leading solutions now seamlessly integrate, creating a streamlined solution that helps responders communicate, collaborate, and command throughout any situation; ultimately resulting in better outcomes, more efficient responses, and less paperwork.
With over 15 Million response hours logged annually by many thousands of response personnel around the world, D4H Technologies operate the best Readiness and Response software platform on the market.
Following the tragic events of 9/11, Everbridge was founded, and has been there for thousands of corporations and communities, improving the way that people communicate and locate their people in critical situations. 8 of the 10 Largest Cities in the US now rely on Everbridge.
"When two industry leaders come together in a global partnership, it has a significant impact on the industry. Everbridge and D4H can now be used together by our combined hundreds of thousands of first responders and emergency managers. While it is their duty to serve, it is our duty to innovate for them. It is our duty to help them to be ready, to help them to respond effectively, and to help them re-evaluate how to be more effective and safer the next time." – Robin Blandford CEO, D4H.
How can emergency responder benefit from this integration?
Readiness - Notification to the right people.
Too often, a response is slowed as organizations are forced to use numerous disconnected systems including personnel management, mass notification, incident management, and others.
This integration helps response readiness by seamlessly sync team personnel contact details in D4H Personnel & Training with Everbridge Contacts.

Response - Launching and managing incidents with ease and reliability.
Now it is possible to launch and manage incidents from within a single interface. Within D4H Incident Management, responders are able to send Everbridge mass-notifications by SMS and Email to the public, campus population, staff, and your response team, without ever closing the software.
By using the 'Share by Mass-Notification' option on any form, document, or status-board users can create a secure link which can be automatically delivered by Everbridge and opened on any mobile device. The content will automatically update throughout the incident for the recipient. Example content includes Situation Reports, ICS Forms, Briefings, Public Notifications, and Action Plans.
Re-Evaluation - Reporting, auditing, and analysis.
A more effective response is achieved through incident re-evaluation and audit. Users can automatically log all their incident notifications sent through Everbridge directly into your ICS forms and event logs. All communications are automatically recorded within the mandatory ICS 214 Incident Activity Log.
If the emergency response team can demonstrate they had all the information available at the time, you can defend your decision. You may have successfully reduced damage to property, people, and the environment, but we all know you are still far from finished with the administration - we've helped make this easier with D4H Incident Reporting.
About D4H Technologies
D4H Technologies is the #1 readiness & response software for emergencies and incidents worldwide, recording over 15 million response hours per year. D4H solutions are deployed in more than 16 countries, driving efficiencies within clients public safety teams, industrial facilities, and corporate crises. Founded in 2008, and driven by a talented executive team, D4H Technologies created the market for cloud-based readiness, response, and re-evaluation software. Combining an accomplished team of engineers and emergency managers, D4H Technologies has injected global visibility into tens of thousands of operations on every continent in the world.
About Everbridge
Everbridge is a global enterprise software company that provides applications which automate the delivery of critical information to help keep people safe and businesses running. During mission-critical business events or man-made or natural disasters, over 2,700 global customers rely on the Everbridge platform to quickly and reliably construct and deliver contextual notifications to millions of people at one time. The company's platform sent over 1 billion messages in 2015 and offers the ability to reach more than 200 countries and territories with secure delivery to over 100 different communication devices. A broad set of applications enable businesses, universities, hospitals, agencies, states, cities, and towns to address issues related to IT outages and cyber attacks, severe weather and man-made incidents, the safety of traveling staff, and facilitate regulation-compliant messaging.