PRESS RELEASE
Madison County Public Health Takes Delivery of Second System
---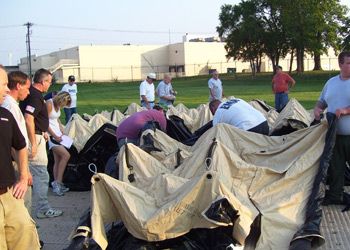 Madison County, IN
— The Madison County Public Health Department in Indiana recently purchased a Reeves Large Incident Command Post from DHS Systems to supplement their response capabilities and held training on the new equipment. 
The 
Reeves Large Incident Command Post
 comprising an 
MX5 Shelter
, provides response personnel with a rapidly-deployable, man-portable, self-sustaining facility offering 519 square feet of usable workspace in which emergency operations can be directed and coordinated from a centralized location in the field.
During the training, which was divided into two sessions, morning and evening, the county was able to cross-train over 30 people from Emergency Management, the Public Health Department and members from Community Emergency Response Team (CERT). Each member who received the training was extremely surprised with how simple it was to setup and repack the new shelter.
This is the second shelter that has been purchased by Madison County Public Health Department. They purchased a 
3XB Shelter
back in 2010 after learning about Reeves from neighboring Hamilton and Marion Counties, while participating in a regional exercise a few years ago. They deployed it as an H1N1 clinic and decided to purchase a second system. Madison County wanted to be able to expand their footprint if their operation become larger or lend their shelters to their neighbors under mutual aid agreements.
"Because several nearby counties are using the same type of equipment, we can combine our facilities and work together if we need to," explains Stephenie Grimes, Coordinator for Madison County Public Health Department. 
Madison County plans to deploy both shelters next August to help the NFL manage the Indianapolis Colts training camp held at Anderson University. Madison County believes the shelters will serve as the ideal command post to help them protect upwards of 15,000 NFL fans that are expected to attend the three week training camp.