Which mobile devices are used most on the fireground and why? (infographic)
Download the free infographic to find out how your department compares to firefighters across the country
---
Sponsored by Zebra Technologies
Mobile computing tools have become the norm in public safety, but what devices are firefighters and fire officers using most in the field, and for what purposes? Which devices do firefighters prefer?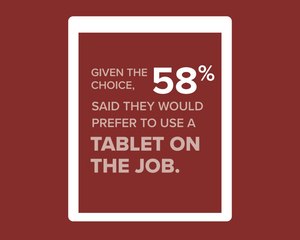 Check out these results from a recent FireRescue1 survey of active firefighters to find out how mobile computing technology is changing in the fire service, and how your department measures up.
Download the FREE infographic to find out:
What mobile devices are firefighters using, and which do they prefer?
What fire applications are used most often on mobile computing devices?
What functions must still be completed on paper forms or desktop computers?
Must-have mobile device features – and more!
Download the infographic here.
FIND OUT HOW YOUR FELLOW FIREFIGHTERS ARE USING MOBILE COMPUTING DEVICES ON THE JOB
Thank You!