Honeywell's latest helmet 18 months in making
EV1 helmets weigh less than 50 ounces, have integrated, spring-loaded eye protection
---
Honeywell's EV1 helmets weigh less than 50 ounces and have integrated, spring-loaded eye protection. The helmets are available in a low-profile traditional style or a modern style — both are NFPA 1971 certified.
The eye protector retracts into the body of the helmet and can be used in conjunction with a faceshield or goggles. With one touch, the eye protector is released.
Honeywell spent 18 months developing the helmet, said Thomas Stachler, Honeywell's product manager for helmets and gloves. About 60 of the helmets are being beta tested now. The helmets sell for a little more than $200, he said.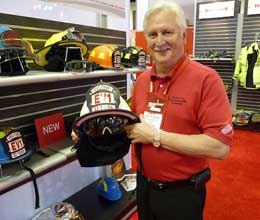 To make the helmets lighter, some hardness was sacrificed. Stachler said that while the helmet will still fully protect a user's heads, its shell is not as hard as other Honeywell helmets.
Some guy used to try to drive nails with our other helmets, Stachler said. That shouldn't be tried with this helmet, he said.
The EV1 has a reversible chinstrap for right- or left-handed firefighters, and the eye protector's travel path can be adjusted for different size faces.
The leather front holder has a bracket to reduce the chances of the holder getting caught on wires.
When the leather shrinks, a gap opens up between the eagle holder and the shield, Stachler said. This can snag wires or other debris, potentially getting a firefighter trapped. The bracket holds the leather shield in place and eliminates the gap, he said.