PRESS RELEASE
Introducing the Pant Leg Strap: Effective Protection for Wildland Firefighters
---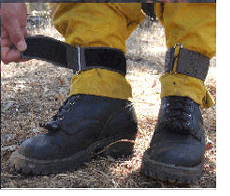 Have you ever had a problem of unwanted dirt, embers, insects or other debris penetrating your wildland gear between your boots and pants?
The Pant Leg Strap from PLS Ltd. effectively secures the pant leg at the boot, keeping your legs protected while you work.
These pant leg straps were designed by firefighters for the wildland firefighting community. It doesn't stop there. It's perfect for securing clothing in any environment where safety is important.
The Pant Leg Strap is made of sturdy webbing, hook 'n loop and a metal ring to provide a strong, long-lasting accessory to your personal protective equipment.
Department and bulk discounts are available. Just visit www.pantlegstrap.com or call 530-292-3384.