PRESS RELEASE
Chicago Police Department is the first to purchase The HERODrag System
---
Chicago, IL – Hero Systems, Inc. announced today The Chicago Police Department Special Functions "Detail Section" has placed an order for their new rescue technology, The HERODrag™ System.
The CPD is the second largest police department in the United States protecting 228 square miles and a population of nearly 3 million. This system is expected to be delivered and in-service by April 2019.
The HERODrag™ System is the first rescue device that is specifically designed to be fast, compact, ultra-lightweight, foldable rigid and easy to deploy. The uniqueness is a series of light, rigid plates which allows for "Hands-Free" transport into a hostile environment in either a carrying case or a firefighter's turn-out gear pocket. The first-responder hands are free for hemorrhage management.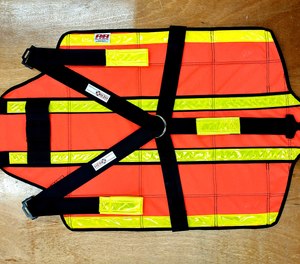 Once deployed the victims head and torso are packaged and stabilized for fast removal. It contains five (5) tie down locations secured with one (1) buckle and three (3) adjustments. Once the victim is packaged the head and neck are immobilized to reduce normal movement and airway management. The series of plates and tie down locations immobilize and significantly reduce the chances of further injury to the head, neck, arms and torso. This fast deployment and stabilization process can be completed in a hostile environment in less than 30 seconds.
The Chicago Police Department Special Functions "Detail Section's" primary responsibility is Homeland Security and crowd management at all major city special events. This detail primarily trains for active shooter and terrorist threats throughout the city and all its personnel are also LEMART (Law Enforcement Medical and Rescue Trained) certified. This unit utilizes specialized equipment to treat and mitigate mass causality and active shooter incidents. The HERODrag System was field tested and also recognized for its potential to save "One of their own" in a hostile, active shooter type incident when Fire or EMS cannot enter the "Hot Zone".
"The HERODrag is the perfect complement to our mass causality response," says Lieutenant Robert Stasch, Commanding Officer, Special Functions Detail Section, the Chicago Police Department. "The stretcher works as designed allowing a single officer, if needed, to securely move an injured person over a variety of terrain features including stairs and escalators in such a way that the injured person is immobilized from further injury. This is a well designed rescue stretcher and is an integral tool of the CPD's Detail Section."
The HERODrag System was designed by a veteran Battalion Chief of The Chicago Fire Department with over 30 years experience in emergency response and management.
Visit FDIC to try The HERODrag first hand at R & B Fabrications booth #3842.

About Hero Systems, Inc.
Hero Systems, Inc. is based on Chicago, IL. It is an innovative company that prides itself on new innovative technologies for the first responder and military industries. Other products include the award winning HEROPipe™ System, The world's only portable, high-rise exterior master-stream apparatus and The HEROHeel™l device, a fire hose-line and water management device.