FRI: Firefighting robotics growing in use
In Germany and Japan, departments are using the drones in a variety of situations such as size-up, people search, inspections and more
---
The use of robotics in firefighting may still seem futuristic to many — but in some parts of the world it's already a reality.
Though not quite yet the norm, robotic equipment is being increasingly used by fire departments in countries such as Japan and Germany — specifically, unmanned aerial vehicles, or drones.
Michael Grubl, of MDAI Germany, which specializes in mobile data and video communication technology for emergency services, outlined the growing use of the technology during a session at Fire-Rescue International in Atlanta on Thursday.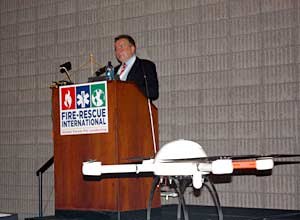 In Germany alone, 15 fire departments are using drones, whether in testing or in real-life scenarios. These include the Dortmund Fire Brigade, which you can see using the devices in the videos that accompany this article, and which were shown during the session.
"Also, there are about five companies in Germany that are producing drones of different sizes," he said.
All of these models, the session was told, are Vertical Take-Off and Landing Systems (VTOLs), meaning they can be easily operated in relatively confined areas.
Grubl outlined how these drones send video to a base station/computer, and are controlled by remote control from the ground.
"The drone is very easy to fly because it controls itself by GPS, and the drone is able to 'park' itself so that the 'pilot' can concentrate on the monitor," he said.
Grubl went on to highlight the technical specs of the new technology:
• Sizes are from 40" to 80" in diameter
• Weight is from two pounds to four pounds
• Flight distance is between 500 years to one mile
• Different camera types include daylight, dawn, thermal and HD
• Different types of sensors for gas and harmful substances
In Germany and Japan, departments are using the drones in a variety of situations such as size-up, people search, inspections of industrial chimneys and fires, monitoring of forest fires and the documentation of incidents.
While Grubl said the drones cannot go directly into fires, they can be positioned close by and the camera tilted and moved in order to gain different angles.
FlashoverTV is powered by FireRescue1.com