Peripheral Manufacturing, Inc. Announces a New, Innovative Fire Fighting Tool Known as "First Responder"
---
Application
The First Responder is a hand held device which was developed to protect life in an emergency fire situation. For example, a person is trapped behind a fire source located inside of a somewhat confined space and must exit quickly. The person may create a possible escape route when properly using a First Responder device. The person would simply remove a safety clip, pull an activation ring pin and toss the device into the fire source. After a short 3-5 second delay, the First Responder would then deliver a highly effective Aerosol Fire Suppression Agent into the area, disabling fire on contact. Although complete effectiveness depends on a number of physical factors, typical coverage of a single First Responder device is around an 10'x10'x8' area, or 800 cubic feet.
The Agent
The agent used inside of a First Responder device has some interesting characteristics. When discharged, this device delivers an exceptionally effective, ultra fine particulate, potassium based aerosol fire suppressant agent that can knock down and or even possibly extinguish a fire source within seconds. The aerosol flows and spreads rapidly throughout the volume or space in a manner similar to gas. The agent then hangs in suspension providing ongoing suppression protection. This agent suppresses fire chemically on contact and does not deplete oxygen. The agent is non-toxic to humans and is 100% green.
use if there is a picture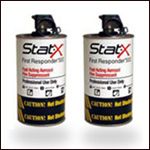 end picture
The Device
A single First Responder device weighs only about three pounds and is slightly larger than a can of soup. It's light and compact characteristics allow for easy portable ability. Once discharged, the First Responder unit remains intact sending out an aerosol agent stream in a circular discharge pattern around the base of the unit. The unit is not pressurized prior to activation. A First Responder device has a shelf live of over Ten Years when stored at temperatures between at (-)65F to (+)130F. The First Responder has been favourably reviewed by the EPA for SNAP listing. The agent used in the First Responder has been successfully tested against NFPA Standards 2010 and 2127.
Packaging
The First Responder is packaged in a kit of four units in a divided storage box. Each unit is protected by a clear plastic sleeve.
Peripheral Manufacturing, Inc. is a 30 year old firm specializing in Manufacturing Magnetic Media Products and markets a full line of Degausser', Portable Air Conditioners, Server Racks, CD/DVD and Magnetic Tape Conversion, plus an AERO-K Fire Suppression System used Computer/Server Rooms, Hazmat Storage, Lockouts, Marine Environments, and CNC applications.