FLIR's new firefighting camera with sharper thermal image
The K55 will allow firefighters to see even better in total darkness or in smoke-filled rooms
---
FLIR Systems, Inc. recently added the new FLIR K55 to its suite of thermal imaging firefighting cameras.
The K55 incorporates FLIR's Flexible Scene Enhancement (FSX) technology, which provides crisp thermal imagery. It's also equipped with on-board video recording, which is ideal for evidence gathering and training purposes.
It displays a 320x240 pixel thermal image on a bright 4-inch LCD display. It stores up to 200 JPEG images, which can be reviewed later from the camera's archive or exported via USB for reports.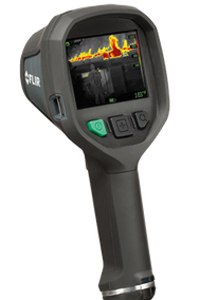 The K55 will withstands a drop from 2 meters on a concrete floor; it is water resistant and fully operational up to 500°F.
It will be available for purchase through established distribution networks beginning March 1.
Visit their website for more information on the K55.