PRESS RELEASE
LION launches new line of turnkey container systems
---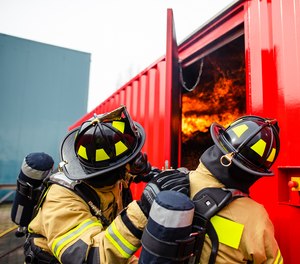 DAYTON, Ohio – LION First Responder PPE, Inc., the largest family-owned manufacturer of first responder protective equipment (PPE) and Training Products, launched a new line of lower cost, turnkey container-based training structures. TrainingReadyTM Container Systems are designed to be ordered and delivered in a fraction of the time it takes for construction of a typical container-based structure.
TrainingReadyTM Container Systems are packed with innovative safety and training benefits that come standard, like temperature monitoring, gas detection, push start/stop ignition, emergency lighting, ventilation, and robust thermal linings. Four models were available for order on November 15, 2020: Confined Space, Digital, Class B, and Smart Class A. Additional models are slated for release in the near future.
The Confined Space Container features a large cage maze with a variety of obstacles such as ladders, stairs,
ramps, and tunnels positioned throughout. The modular cage system allows easy layout reconfigurations to create challenging search and rescue drills.
The Digital Container features a fixed wall of digital fire simulation panels to mimic a large seat of fire. The digital container allows users to create fire attack drills without needing live fire. The container also includes additional moveable digital panels and moveable walls to further training variety. Digital containers can be delivered within as few as 90 days.
The Class B, or gas-based live fire, Container features interchangeable fire props to vary training scenarios.
Choose from a library of props which include a storage shelf, closet, medical cabinet, or workbench. The container also features a Rollover Simulator to mimic rollover fire conditions.
The Smart Class A Container features a class A burn crib with a built-in, fuel-assisted gas ignition and a water suppression system. The integrated technology makes it easier and faster to train and cuts down the time between evolutions. The ventilation system, in addition to being an integral part of the safety network, can also be leveraged to create realistic fire behavior and flow path.
About LION
Founded in 1898 and headquartered in Dayton, Ohio, LION is a family-owned company with a legacy and ongoing vision of introducing new products and services designed to ensure the health, safety and performance of first responders worldwide. From game-changing personal protective equipment (PPE) and professional gear repair and maintenance to state-of-the-art fire safety training tools and facilities, LION's mission is to sure firefighters are READY FOR ACTION. For more information, visit www.lionprotects.com.