PRESS RELEASE
New Faces at Clean Air Concepts
---
Cincinnati, Ohio. November 14, 2019 -- Clean Air Concepts, parent company to MagneGrip Group, manufacturer of MagneGrip Exhaust Removal Systems and AirHAWK Air Purification Systems, is pleased to announce recent additions to the organization.
"Our business is growing as fire departments domestically and internationally call on us for exhaust removal and air purification systems." said Maggie Rossman Roach, President of Clean Air Concepts. "In addition to filling open positions, we added several new roles to enhance our operation. New talent combined with our highly experienced team -- some employees with 20 to 30 years of experience with us-- is the perfect blend. We are pleased to welcome our new team members and look forward to many years of collaboration to reduce cancer risk and eliminate toxins from the air for fire and EMS departments."
Joining the Operations team is Eric Reising, CAD Manager and Project Manager.  Eric is applying his previous experience with a regional homebuilder to MagneGrip's manufacturing environment. He enjoys working at the family-owned company, learning new products and seeing the tangible results of his work.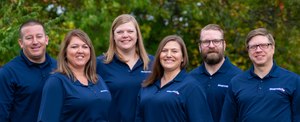 Kerry Stanforth joined the organization as Purchasing Agent. Kerry has 16 year's experience in purchasing. In addition to working Monday through Friday, on weekends Kerry serves as an emergency medical technician (EMT) fulfilling her desire to help people in life-threatening situations.
Heather Lester and Jennifer Rossman are new members of the Accounting team.  Heather brings six year's experience to her role of Accounting and HR Manager. Away from work, Heather is an author of children's literature. From the adventures of her three children, Heather's books empower young readers to cultivate their individuality and creativity.
Jennifer Rossman is Accounting Manager and the daughter of company founder, Ed Rossman. "As a family business, this is a special business. My father believed in doing what is right for our customers and our employees. I'm happy to be involved and to continue his legacy."
New members of the Supply Chain team are Meghan Keough, Inventory Specialist and Matt Kinkade, Warehouse Supervisor.
Meghan has 13 years of experience in media and product purchasing for a global manufacturer. She brings that background to her current role in manufacturing and warehouse goods. Meghan appreciates the hands on experience she is getting and the ability to focus on decisions that will make a difference for the company.
Previously, Matt worked for MagneGrip as an installer. Several years ago he left the company to pursue other work. Matt missed the company – the people, work and the atmosphere -- and working with fire departments. When the opportunity arose, he rejoined the organization. Matt said, "Everyday is a good day here."
Sam Broze has also rejoined the organization. Building upon his previous role as an installer, Sam's new role is Service Technician. Sam enjoys traveling to various fire districts and meeting interesting customers. About his return to MagneGrip, Sam remarked, "This is the first place that felt like coming home."  
Joining the Sales team is Greg Roach. Previously, Greg was a high school mathematics teacher. Greg likes problem solving; applying that ability to reducing cancer risk is his ultimate goal. Initially on the MagneGrip installations team, Greg has already traveled to many fire stations and enjoys working and interacting with firefighters.
About Clean Air Concepts
Clean Air Concepts, also known as MagneGrip Group, is an American manufacturer of exhaust removal and air purification systems. Founded in 1982 and headquartered in Cincinnati, Ohio, MagneGrip Group is the #1 solution to the health threat of diesel exhaust emissions in firehouses and vehicle maintenance facilities.
Clean Air Concepts/MagneGrip Group engineers, manufactures and sells MagneGrip Exhaust Removal Systems and AirHAWK Air Purification Systems. It is ISO 9001:2015 CERTIFIED and operates through an international distribution-and-service network. It is a sponsoring partner with Fire Fighter Cancer Foundation and offers access to free grant assistance for departments needing an exhaust removal system.
MagneGrip Exhaust Removal Systems provide advanced technology to eliminate the health threat of diesel exhaust emissions in firehouses and vehicle maintenance facilities. MagneGrip systems are 100% effective in removing cancer-causing toxins.
AirHAWK Air Purification Systems remove airborne contaminants and neutralize toxic compounds that pose health risks in firehouses, medical clinics, airports, office buildings and other facilities through ceiling mounted, ducted and portable units.
Additional information is available at MagneGrip.com.

Request more info from MagneGrip
Thank You!