PRESS RELEASE
Plymovent Discovers Getting a Grant to Protect Firefighters Becomes Easier
---
Cranbury, NJ – In 2012, the World Health Organization classified diesel engine exhaust as carcinogenic to humans (Group 1). This classification places diesel exhaust in the same deadly category as asbestos, arsenic and tobacco. In a multi-year National Institute of Occupational Safety and Health (NIOSH) study, initial findings (Phase I) of the NIOSH study suggest that firefighters are at higher risk of cancers of the respiratory, digestive, and urinary systems when compared to the general population. Firefighters exposure to diesel engine exhaust is one of the contributing factors for this higher risk of cancer. 
Plymovent vehicle exhaust removal systems protect Firefighters and Emergency Medical Services (EMS) personnel from diesel engine exhaust. Grants, such as through the United States Department of Homeland Security Assistance to Firefighter Grants (AFG), are available to protect Firefighter and EMS personnel's health and safety. Applying for a grant to get a Plymovent vehicle exhaust removal system doesn't have to be complex. You can get support from independent grant writing services such as FireGrantsHelp.com to provide personalized grant assistance for vehicle exhaust extraction systems under "Modification to Facilities". Receive one-on-one service from a qualified Grant Consultant who provides free customized research, reviews grants prior to submission, and even offers grant writing services at exceptional rates.
To access the Plymovent grant assistance program survey form, click here: http://bit.ly/FGHPlymovent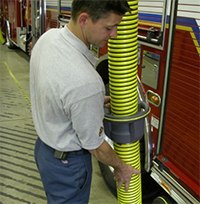 Notice:  To clarify that Plymovent does not provide or fund grant writing services, this updated press release replaces Plymovent's Press Release, Plymovent Makes Getting a Grant Easier, dated October 13, 2015.
About Plymovent
Plymovent Corp. is an ISO 9001:2008 manufacturer of vehicle exhaust removal systems. For more than 35 years we have made it our business to ensure clean air in your working environment. We provide high-quality products to protect Firefighters and others from exposure to hazardous diesel exhausts.
For more information please contact us at http://www.plymovent.com/us.

Request more info from Plymovent
Thank You!