PRESS RELEASE
Plymovent hires business development manager
---
CRANBURY, N.J. — Plymovent Corp. has recently hired Aaron Stewart as business development manager.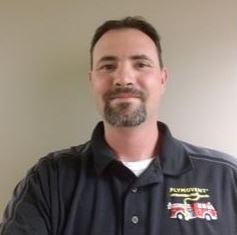 Stewart brings with him over 14 years of experience in sales and project management of industrial ventilation and air cleaning solutions.
He previously worked for one of Plymovent's top tier vehicle exhaust extraction dealers in the United States, where he exceled in developing sales and managing key project designs, installation, training and services in his region.
Stewart grew up in Colorado and graduated from the Spartan School of Aeronautics.
His primary role at Plymovent is to focus efforts on our vehicle exhaust extraction markets. "We are very excited to have Aaron on board. His depth of industry experience, knowledge and management capabilities will greatly contribute to Plymovent's business objectives moving forward," says Brad Pitzl, president of Plymovent Corp. in Cranbury, N.J.
About Plymovent
For more than 45 years we have made it our business to ensure clean air in fire stations. We provide high-quality products to protect firefighters, EMS personnel and others from exposure to hazardous diesel exhaust. From existing stations, to new turnkey facilities, our totally automatic start-up and disconnect source capture systems are the recommended method for controlling exhaust emissions at your station. For more information, please contact us at www.plymovent.com.

Request more info from Plymovent
Thank You!