PRESS RELEASE
KIMTEK transport units fit Can-Am Defender and Can-Am Defender Max
---
MEDLITE® and FIRELITE® slip-on skid units do the job in Can-Am side-by-sides
ORLEANS, Vt. — KIMTEK Corp, makers of MEDLITE® and FIRELITE® Transport skid units for off-road rescue and wildland firefighting, announce the full compatibility of their top-selling line of UTV-based skid units with Can-Am Defender and Can-Am Defender Max (crew) side-by-side UTVs. The Defender's rugged cargo bed with 1,000 lb capacity and overall strong suspension and frame make it an excellent choice for first responders throughout public safety and service sectors in the United States, Canada, and well beyond.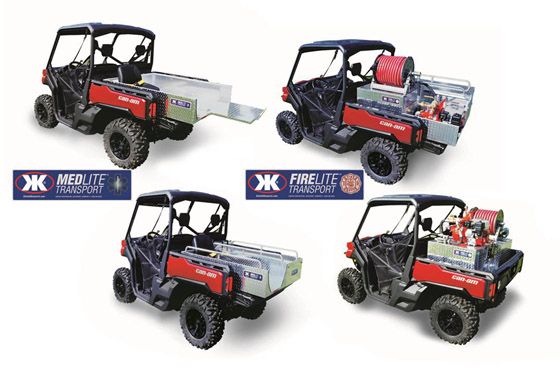 As a key brand within the BRP family of companies, Can-Am's line of Defender UTVs has been meticulously developed alongside Ski-Doo snowmobiles, Sea-Doo Jet Skis, Evinrude Outboard Motors, and Spyder Motorcycles. This long heritage in off-road quality means public safety professionals have a confident choice with Can-Am Defender UTVs outfitted with KIMTEK's fully compatible, slip-on MEDLITE or FIRELITE Transport Skid Units.
About KIMTEK Corporation
KIMTEK Corporation is the largest producer and marketer of ATV/UTV-specific skid units for public safety agencies in the U.S. KIMTEK's FIRELITE® fire and rescue skid units and MEDLITE medical skid units are now in service in all fifty US states, seven Canadian provinces and one territory, all branches of the military, the National Park Service, numerous NASCAR tracks, sporting complexes, schools, universities and in several countries worldwide. KIMTEK Transport skid units are made in the USA. Founded in 1984 as a research and development company dedicated to advances in life safety technology in the fire sciences, KIMTEK Corporation manufactures and markets a full line of FIRELITE and MEDLITE Transport skid units for emergency service UTVs and pick-up trucks. For more information, please contact KIMTEK at 888-546-8358 or visit the company's website at www.kimtekresearch.com.