PRESS RELEASE
Westin adds Superwinch to family of quality automotive products
---
SAN DIMAS, Calif. — Westin is pleased to announce that we have added Superwinch to our family of quality automotive products. Superwinch has been global market leader and manufacturer of electric and hydraulic winches and accessories for over 45 years and the tradition will now continue. The Superwinch brand is synonymous with quality, durability and innovation and has a loyal following among off-road enthusiasts, agricultural, military and industrial users alike.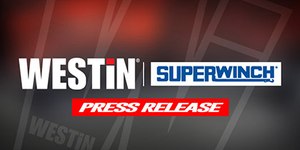 Superwinch has maintained an outstanding reputation within the marketplace based upon their superior design, reliability and value. The brand includes a wide range of consumer and industrial winch products, including electric winches, power drives, hydraulic winches, recovery accessories, parts and hubs. Westin plans to expand upon the current Superwinch product offerings, with new designs in the future while providing distributors with additional added value through our comprehensive line of winch capable products (such as HDX grille guards and bumpers, MAX mount systems and Jeep products).
"We are very excited at the opportunity to add Superwinch's quality products into our overall Westin program. We know that both Superwinch and Westin customers will benefit from the expanded product lines, marketing and customer service that our customers expect from us.  This opportunity is consistent with our reputation of bringing the broadest range of top quality innovative products for consumer and commercial applications to the automotive aftermarket since 1977". Bob West - President, Westin Automotive.
In the coming weeks, Westin will be working on new Superwinch product programs, availability and marketing materials and we look forward to continuing existing relationships as well as developing many new Superwinch customers in the future.
About Westin Automotive
Westin® Automotive is an aftermarket product manufacturer and parent company of brands including FEY®, Wade™, Brute™, HDX™ and Snyper Westin Offroad products. Westin designs and delivers automotive products that give you the look and function you need to fit your active lifestyle. When you choose Westin®, you roll with style. Westin Automotive products are proudly designed, tested and engineered in San Dimas, California, USA. Innovation, passion and consistency have made Westin one of the industry's leading manufacturers for nearly 40 years. Our diverse range of products is backed by a superior manufacturer warranty. When it comes to your vehicle, Westin is the name you can trust.