Gold Cross EMS improves safety for patients and medics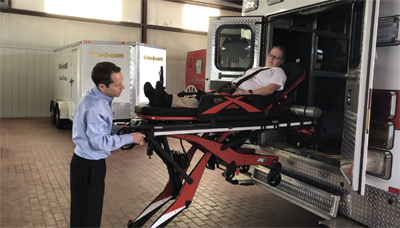 AUGUSTA, Ga. — Gold Cross EMS is the first emergency medical service department in the state of Georgia to add the world's first Integrated Patient Transport and Loading System™, the iNʃX®, to their fleet. The iNʃX was developed by FERNO to eliminate lifting during patient transport, enhancing caregiver and patient safety.
EMS is one of the most injurious occupations. According to research conducted by the National Association of Emergency Medical Technicians, 1 in 4 EMS professionals will suffer a career-ending back injury within the first four years of service. The average worker's compensation cost for a back injury is between $40,0000-$80,000.
"We have seen so many injuries caused by lifting. At Gold Cross EMS, we want to reduce injuries and prolong careers. Back injuries are the leading cause of early retirement," said Steven Vincent, Chief Operating Officer at Gold Cross EMS.
The iNʃX allows EMS professionals to navigate over obstacles, such as road barriers, and into an ambulance without lifting. Simple controls allow EMS professionals to safely raise, lower, load and unload patients with the push of a button. The system also provides best-in-class stability, increasing overall patient safety.
"Previously, we would need to call for lift assist if we needed to transport a bariatric patient. Now, with the iNʃX, Gold Cross EMS can lift up to 700-lb unassisted with the push of a button. This is an investment in our local community and operations," remarked Vincent.
Gold Cross EMS plans to continue to add additional iNʃX systems to their fleet this year.
"Gold Cross EMS is focused on caring for our community, which means doing everything we can to ensure our caregivers and patients are safe. We have 43 licensed ambulances and plan to continue to update our fleet with the iNʃX system. We are spending money that is going right back into the community by increasing the safety of caregivers and patients during transport," said Vincent.
Gold Cross EMS is locally owned and operated, and has served the Central Savannah River Area since 1997. To learn more about how Gold Cross EMS is focused on caring for their community and the cutting-edge technology they use, visit www.goldcrossems.com.
About Ferno
Ferno is recognized as the global leader in the manufacturing and distribution of emergency patient-handling equipment and mortuary products and exports to more than 100 countries. For more information visit Ferno.com.