Guardian Emergency Vehicles Announces Complete Product Line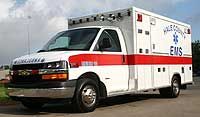 Company will manufacture new custom Type II van ambulances and remanufacture Type I and Type III modular units for ambulance service providers
HUNTSVILLE, al - Guardian Emergency Vehicles, Inc., a new ambulance manufacturing and remanufacturing production facility located in Huntsville, Alabama, began producing ambulances on March 5, 2007. Guardian used its presence at the EMS Expo trade show and conference in Orlando, Florida, to officially introduce its full line of vehicles. The company, located in the Chase Industrial Park, currently markets and builds three major types of ambulances used by medical transport providers in the U.S. and foreign countries. Guardian products include a custom Type II van ambulance and remanufactured ambulances on either a pick-up truck chassis (Type I) or a van cutaway chassis (Type III). In the remanufacturing process, the patient compartment is removed, its contents extracted, and the module is completely remanufactured according to customer specifications. The remanufactured module is then placed on a new chassis. Guardian guarantees a 45-day turnaround time on the remanufactured units.
"We have assembled a significant team of professional managers and technicians who are the best at what they do," said Guardian President and Chief Operating Officer, Jimmy Agnew. "We anticipate that Guardian will be a market leader in the ambulance and medical transport industry. We know this industry and our customer base well and believe this is the right time to enter this robust marketplace. There is a growing need for additional medical transport vehicles driven by a number of factors including population growth and we expect this trend to continue," he said.
"Our ambulances are among the finest in the nation and we are taking specific steps to improve them further by listening to our customers and their EMT / Paramedics who use these trucks every day," Agnew said. "Guardian remanufactured ambulances cost our customers thousands of dollars less than a new truck and are dependable, long-term performers in the field. We deliver these vehicles quickly and efficiently to our select client base. Our trucks comply with all applicable state and federal regulations and are customized to meet customer specifications," he said.
Agnew noted that Guardian is always looking for ways to better serve ambulance service providers and improve safety for their employees. Recently, the company developed a horizontal compartment with a slide-out, drop-down bracket for the on-board oxygen tank. The improvement lowers the center of gravity on the Type II vans and the innovation helps prevent back injury to EMT personnel.
"We are implementing a Lean manufacturing work environment to reduce our cycle times, increase productivity and further improve the already substantial quality of our vehicles. We will continue to listen to our customers and incorporate additional improvements and innovations based on their needs," Agnew said. "We are using construction materials that weigh much less and are significantly stronger and more durable than traditional materials used in this industry," he said. Agnew noted that the company is located in a technical community that has a lot of expertise in many applied technologies including advanced electronics and materials science.
Guardian currently uses Chevrolet trucks for the vast majority of its ambulances. "We have a good relationship with General Motors and after recently touring their factory in Wentzville, Missouri, Guardian executives determined that Chevrolet is currently producing the best truck for the ambulance market," Agnew said. "General Motors became our preferred supplier. We are finding a widespread acceptance of Guardian ambulances using Chevrolet vans and chassis," he said.
Guardian's customers are enthusiastic about the company's products as well. "I've been in the EMS business for 25 years and I can tell you from experience the Guardian remount on the Chevy chassis is the way to go. Our maintenance costs are much lower and the trucks do not sway the way many others do," said Mike Wesley, Fire Chief in Lincoln, Alabama. "Guardian does a really good job for us and we don't ever have to worry about whether our modular units are done right."
About Guardian
Guardian Emergency Vehicles is a privately held manufacturer of high quality, dependable new Type II van ambulances and a remanufacturer of exceptional Type I (pick-up truck chassis) and Type III (van cutaway chassis) modular ambulances. Guardian's 23,000 square-foot vehicle assembly / manufacturing facility and offices are located in the Chase Industrial Park in Huntsville, Alabama. For more information: call the company at 800-770-6307; contact Jimmy Agnew by e-mail, jimmy@guardianemergency.com; or visit www.guardianemergency.com.