RAM Mounts Introduces New RAM Tough-Dock Powered Docking Stations for the Panasonic Toughbook CF-31
RAM Mounts has announced the release of the new RAM Tough-Dock™, for the Panasonic Toughbook® CF-31.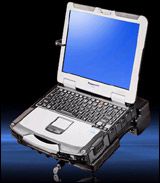 The new dock is available in both high strength aluminum enclosure and high strength composite enclosure models. RAM's customer base has diverse requirements which consist of Consumer, Commercial, Industrial and Military needs. For these reasons, people have come to expect more from RAM and they plan to deliver. With all the built in features, the Panasonic Toughbook® CF-31 never had it so good. Rock solid design no matter what the material, this dock offers port replication, optional Bluetooth integration, tamper proof lock, integrated screen support, and a look that says "bring it on!" Easily integrate the ultimate Toughbook® accessory, the RAM Tough-Dock™, into your existing RAM system or buy a complete kit that includes everything you need to mount your Toughbook® CF-31.
Learn more about this new mount at RAM Mount's website: www.ram-mount.com