All Terrain Responder off-road vehicles roll into FRI
The versatile units come in both wildland and EMT models and can navigate narrow, crowded or other special terrain
---
All Terrain Responder turned heads when its new off-road vehicles rolled into Fire-Rescue International in Atlanta.
The versatile units, which come in both wildland and EMT models, are smaller than traditional fire department vehicles, enabling them to navigate special terrain like sand or forests, or to get through crowds of people faster.
Many firefighters and other responders who saw the vehicles were impressed by the quality, according to Greg Johnson, Sales Manager for All Terrain Responder.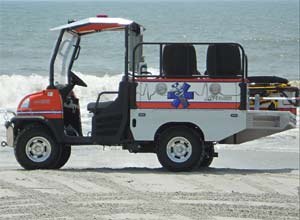 "People at shows say, 'We've seen things similar — but never to the level that you're doing,'" he said.
Johnson credits the quality of the vehicles to a range of factors like "better welding and better welders, a powder coating with a hard and durable finish, the fact the entire bed is built out of aluminum to prevent corrosion, stainless steel, a CAT pump that is a highly rated pump" and other features.
"We don't scrimp on costs," Johnson said. "We get good, reliable products."
The design of the vehicles — particularly water supply and additional storage — has also surprised many, according to Johnson.
"When people hear it can carry 100 gallons of water, their eyes grow big," he said.
Much of the attention to quality and detail can probably be attributed to the company's background in parts and other welding.
Although All Terrain Responder has only been in research and development for the past 18 months, its parent company Carolina Custom Products has specialized in metalwork since 1989 — including producing parts for the automotive and aerospace industries.
The company had made parts for other companies' vehicles for a long time, but wanted to take on the challenge of building a finished product, Johnson said.
Another aspect of the All Terrain Responder lineup that impresses people is the price, which can sometimes be as much as about half the cost of similar vehicles on the market.
Though the company's surrounding mountainous area undoubtedly factored into the decision to make the off-road capable vehicles, the practical applications don't end there.
"There are a lot more uses for these vehicles than we ever anticipated," Johnson said.
"They are perfect for going along railroads if a fire is caused by a train, which can happen."
The vehicles can also be particularly useful for national parks, the Forestry Service, race tracks, football stadiums, cities with a lot of festivals, beaches and coastal areas, among other locations.
The vehicles only started selling about four months ago, but have already been showcased at four shows.
All Terrain Responder is also considering expanding its lineup of vehicles in the future, Johnson said.
For more pictures, video and other information about All Terrain Responder vehicles, visit the company's official website.