PRESS RELEASE
Austin Fire Department receives first large-scale mobile ventilation unit
---
The department acquired the ventilator after 18 months of testing and research
AUSTIN, Texas — In May, the Austin Fire Department (AFD) took ownership of one of its most recent apparatus purchases, and the only one of its kind for the department: a truck-mounted large-scale mobile ventilation unit coined the "Smoke Buster." Austin's acquisition of the ventilator was the final result of nearly 18 months of testing and research.
AFD began the initial purchasing process in 2014 when it solicited the help of some local university engineering students; they ran a number of ventilation tests and simulations within large structures. Simultaneously, the Department used the opportunity to evaluate a number of mobile ventilation products from some of the top manufacturers in the world. The conclusions of the study were clear: Particular incident types require large-scale ventilation beyond what traditional Positive Pressure Ventilation (PPV) and Positive Pressure Attack (PPA) fans are capable of; Austin needed access to such a solution.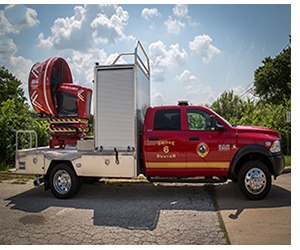 AFD's Smoke Buster utilizes a Tempest MVU®-L125 mounted in the bed of a Dodge Ram® heavy-duty diesel pick-up truck. The final custom fabrication and installation of the apparatus was delivered by Skeeter Brush Trucks out of Hillsboro, Texas. The Smoke Buster was showcased in Tempest Technology Corporation's booth at FDIC 2016 in Indianapolis. Tempest has more than 200 similar ventilators in operation around the world.
About Tempest Technology Corp.
World class quality since 1987, Tempest Technology has been known for manufacturing the finest power blowers on the market. Tempest power blowers feature flip-up / fold-down handles, off-road tires, foot operated PPV tilt adjustment and AirFlex Impellers to simplify operator handling and improve performance.