5 tools to safeguard wildland firefighters
Here are several tools for firefighters working the already perilous 2014 wildfire season
---
Western states in the U.S., particularly California, are facing droughts of historical proportions. This has fire officials deeply concerned about a fire season in that state that has begun much earlier than normal with devastating results.
Indeed, the workload for wildland firefighters and structural firefighters working in the wildland urban interface (WUI) has not slackened one bit. Here are five products that can make a firefighter's job safer, more effective and more efficient when combating wildland and WUI fires.
Wildland fire backpack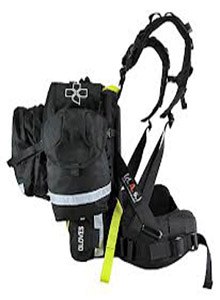 The FS-1 Mojave Wildland Fire Pack from Coaxsher has a modular design that enables the user to add Coaxsher accessories and pack modules later to configure the pack.
The FS-1 Mojave comes with a main pack harness, a water reservoir case that holds up to a 102-ounce water bladder (water bladder sold separately), and the New Generation fire shelter case with a glove compartment.
The fire shelter case attaches to the main pack harness with quick-release buckles but also comes with Alice clips to attach to the sides of the hip belt.
The pack has an ergonomic suspension harness, aluminum stays and Coaxsher's dual-action stabilizer system. Available accessories include the following: 400-, 700-, and 1,500-cubic-inch pack modules; dual flagging tape dispenser; CamelBak's 100-ounce Omega Water Beast reservoir; and a fuse case.
Personal fire shelters
No wildland firefighter should be without a personal fire shelter. In an emergency situation, the fire shelter may save a life. The New Generation fire shelter meets U.S. Forest Service specifications and includes a shelter floor and quick-grab handles.
New Generation's large-size shelter is designed for firefighters taller than 6 feet 1 inch or whose girth exceeds 53 inches at any point. The larger fire shelter provides for less contact and more air space between the shelter and occupant.
Each shelter set includes fire shelter, nylon duck carrying case and carrying case plastic liner.
Chain saw chaps
Weckworth's U.S. Forest Service chain saw chaps meet U.S. Forest Service specifications and NFPA 1977, 2011 edition specs.
The chap's features include a back-coated nylon shell that resists water, oil and abrasions; 2-inch-wide adjustable nylon belt; 1-inch-wide adjustable nylon leg straps; and unbreakable quick-release buckles.
The chaps provide 3,200 feet per minute chain speed protection and 180 degrees of protection across the front of both legs. They also have a tool pouch with cover flap and snap closure attached to the belt.
Personal weather monitoring
The Kestrel 3500 advanced wind meter provides up-to-the-minute weather data that enables firefighters to stay abreast of changing weather conditions in their area of operation.
The 3500 records and stores comprehensive environmental data on nine different measurements. These include barometric pressure; pressure trend; altitude; relative humidity; heat stress index; dew point; wet bulb temperature; wind chill; air, water and snow temperature; current and average wind speeds; and maximum wind gusts.
Users can turn the device on and scroll left and right to see exactly what is happening in the surrounding environment.
Helmet headlamp
FoxFury's 400-006 Performance Fire LED helmet light/headlamp features 20 white and four green LEDs, offering a 45-degree field of vision that enables the user to see an area up to 150 feet long and 60 feet wide.
The 400-006 includes both high and low intensities. In the high-intensity mode, the 400-006 provides 82 torch lumens and up to 7 hours of run time. On its low-intensity setting, it produces 33 torch lumens with a run time of up to 14 hours.
The 400-006 also features quick tilt (45 degrees) and a nylon 66 housing with polycarbonate lens – making it waterproof to 20 feet. It is compliant with NFPA 1971-2007 fire resistance requirements (500 degrees F for 30 minutes) and impact resistance. 

Request product info from top Wildland Fire Products companies
Thank You!