The time to gear up for 2019 wildland firefighting is now
Don't wait to acquire the essential clothing, boots and packs for personal protection and portable tanks for rapid deployment
---
By Robert Avsec for FireRescueOne BrandFocus
Wildfire season in 2018 was catastrophic for many parts of the western U.S., particularly California. And 2019 isn't shaping up to be much better, given the effects of climate change on weather patterns, especially rainfall.
The time to prepare for your fire department's wildland firefighting equipment and personal protective clothing needs for 2019 is now. Last year's heavy wildfire activity had fire departments and vendors alike scrambling to get the wildland firefighting equipment and protective clothing they needed. That demand was exacerbated by the extraordinary number of requests for additional firefighters from across the U.S. to respond to those fires in California and other western states.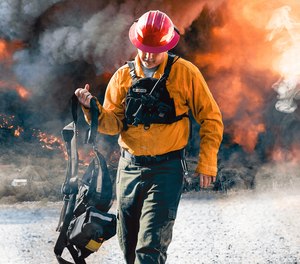 IT'S NOT JUST THE WESTERN U.S.
Structural firefighting departments across the U.S. are increasingly responding to fires in the wildland urban interface (WUI) as population migration and residential construction continue to expand into the WUI. Many of those departments lack the specific wildland firefighting gear and protective equipment necessary for safe effective and efficient operations.
Right at the top of that list is personal protective clothing. Hiking through the woods for hundreds of yards to reach the seat of an early-stage wildfire, while wearing structural firefighting turnout gear, can be exhausting even in relatively cool weather, making heat stress a common risk. Those personnel need to have PPE options beyond their structural PPE.
ESSENTIAL GEAR
Essential gear for fighting wildland fires includes:
True North supplies a full line of wildland firefighting clothing, including the Slayer Brush Shirt and Slayer Brush Pant with 40% more airflow to help you beat the heat.  True North's full range of clothing is designed to offer multiple layer options allowing you to adapt to your surroundings.
All Slayer wildland firefighting clothing is compliant with NFPA 1977: Standard on Protective Clothing and Equipment for Wildland Fire Fighting.
WATER ON THE FIRE EARLY
The key to controlling any wildfire is reaching the seat of the fire early and working the left and right flanks to affect extinguishment. This is particularly true for fires east of the Mississippi River in the U.S. where most wildfires are found working in ground fuels, not "exploding" in treetops like they do in California. (Sorry, California firefighters, but you folks encounter a type of wildland fire that most of your brother and sister firefighters are totally unfamiliar with.)
Since 1925, the Smith Indian Fire Pump has been one of the most recognized names in the wildland firefighting industry. And those "Indian Tanks" have been a stalwart means of extinguishment for many fire departments large and small. (What firefighter hasn't gotten their first experience fighting a woods fire or grass fire with a steel Indian Tank on their back?) A firefighter carrying an Indian Tank, with its five gallons of water and all brass hand pump, enables firefighters to control and extinguish the hot spots quickly.  It's a tool to effectively reach and "get at a fire" while it's still in its formative stages, before it gets out of control.
The original Smith Indian Tank is still getting the job done today and comes in both stainless steel and galvanized steel models.  The Smith Indian Fire Pump is also available with the same five-gallon capacity in a polyethylene tank that is 10 percent lighter than its steel model.  The rigid tanks are ideal for storing the water and being able to hit the ground running to fight the fires.
Need a more compact unit that stores more easily on your apparatus, but still gives your firefighters the same firefighting capability? Well there's the Smith Indian Fire Pump Smokechaser Vinyl Tank, which is the same one used by the U.S. Forest Service firefighters, plus other models – the Indian Chief and Smokechaser Pro – that are nylon/canvas bags with inner bag water liners, and outer bag comfort and storage pockets, offering the most comfort and convenience in backpack fire pumps.  These models have the same five-gallon capacity and all brass pumps, just in a collapsible style that can easily be rolled up and stored for rapid deployment.
THE TIME IS NOW
If the last two years have taught us anything about wildland firefighting, it's that wildland fires are unpredictable, quick to ignite and can grow to devastating proportions. The only certainty is that a wildland fire will happen again – so the time to gear up for wildland firefighting is now.