Setting Up Rehab Sectors: It's Easy and it Works!
---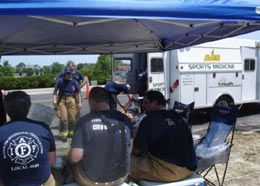 Photo Perry Denehy
Mason firefighters rest in the rehab area during the training.
I assisted at a live training burn recently for my old fire department in Mason, Ohio. I was honored to have been asked by the instructors and, with the permission of their chief, to head up the rehab sector.  
As the crews prepared to begin the evolutions, I began to set up the sector — and the simplicity of setting up rehab was again confirmed.
The department had been given a one-story brick ranch house for live training by an area property developer. All appropriate measures had been taken to ensure NFPA compliance and firefighter safety, and considerable planning was conducted by instructors in what type of evolutions were to be practiced.
In addition, all fire personnel had spent the previous six months engaged in multiple courses in NIMS, incident command through the National Fire Academy.
High temperatures
The live-fire training would allow them the chance to apply book learning in the real thing. But as we all know, one thing that we cannot control is Mother Nature. Temperatures were forecasted to be in the 90s amidst mini-drought conditions.
The region was also 7 inches below its normal rainfall averages for the year, so this additional strain of various environmental factors would further burden those involved in the valuable training.
Setting up the rehab sector in such deployments is made easier with the use of a specialized vehicle. I have been the head athletic trainer for an area school district for the last 24 years, and in memory of my late mother and grandmother, who was a dispatcher for another county fire department, I purchased a used Braun ambulance. 
The vehicle was then donated to my school district and outfitted as a mobile sports medicine unit. It has served this purpose well at track meets, football games and marathons.But on this particular day, the unit would be used to assist firefighters, not high school athletes. 
At the scene, a power cord from the tower ladder supplied the electricity for the on board air conditioning and mister fan.
Also included were:

• A 10 by 10 portable tent set up on a nearby concrete slab.
• Four Kore-Kooler Rehab Chairs positioned under the tent.
• Sports drinks and water bottles in iced coolers supplied by the department.
• A separate 10 gallon cooler filled with iced water, with several towels added.
• A clipboard for accountability and charting vitals, to be used along with a finger pulse-oximeter and an automated blood pressure device. 
In total, the set up was completed in less than 15 minutes. Some assistance was received by on-site crews but in a pinch, it could easily have been done by one person.
Excessive fatigue
As crews completed their evolutions, they would come over to rest, cool off, re-hydrate and be monitored for signs of excessive fatigue. An advanced life support vehicle and crew was also positioned next to the rehab area. 
The rehab sector officer was in radio contact with incident command and instructors, and as the day wore on the temperatures climbed and rehab became more popular.
As a trained CISM counselor, I also saw how easy it would be to monitor the emotional side of responders. But since this was just a training exercise, we didn't face any frantic homeowners or despondent firefighters.
A welcome site was the delivery of two six foot subs, chips and cookies for that roadside training-burn lunch.
The afternoon evolutions continued until the house was allowed to burn off. Only one minor case of indigestion was logged during the nine hours of training.  Overall, I felt that the officers and crews were appreciative of the service. It would be difficult to actually prove that heat exhaustion cases or worse were prevented, but we were thrilled to experience no injuries or transports. It is always better to be safe than sorry.  
My lessons learned from this experience were minimal. We ran out of bottled water and sports drinks by lunchtime, but were able to re-stock quickly. Additional ice was also purchased.  Assigning this to someone with a staff vehicle and credit card was easily done.
The actual command post and rehab sector were separated by two working pieces of fire apparatus —having at least a clear visual line of sight of each other would have been ideal. During the session, radio communication was maintained throughout, and vests were available but not used.
Charting of personnel entering and exiting rehab was attempted but not done on everyone. Again, being in non-emergency mode, many face-to-face contacts were possible with chief officers and instructors and I appreciated the opportunity to hone my skills in this area.
For the crews, they worked hard, learned a lot and all went home safely. I am confident that we made believers in rehab for those in attendance. But the test will be on the next real prolonged incident — will command insist that a rehab sector be established?