2 NH firefighters traveling cross-country to battle Calif. wildfires
Forest Fire Patrolman David Kullgren and Forest Ranger Tom Trask are making the four-day trip in a brush truck to help in the fight against the Mendocino Complex
---
By FireRescue1 Staff
UKIAH, Calif. — Two firefighters from New Hampshire are on their way to California in a brush truck to help in the fight against the Mendocino Complex.
The Boston Globe reported that Forest Fire Patrolman David Kullgren and Forest Ranger Tom Trask are driving across the country to Ukiah, California to receive their assignment.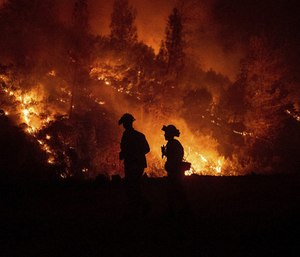 "A complex fire means there are multiple fires under that one complex so we're not sure where they're going to send us or what we're going to be doing until we check in," Kullgren said.
The two plan to arrive in California on Monday and expect to work grueling conditions for 10 to 16 hours a day.
"It is extremely fast, extremely aggressive, extremely dangerous. Look how big it got, just in a matter of days.… Look how fast this Mendocino Complex went up in ranking. That doesn't happen. That just doesn't happen." https://t.co/BFtZPyPWrq pic.twitter.com/36KFSQAVdk

— Borzou Daragahi ?? (@borzou) August 7, 2018
"With the engine, they'll probably be in the backwoods or in the back mountains on smaller dirt roads in the areas larger engines can't get to," New Hampshire Forest Protection Bureau Chief Steven Sherman said.
Kullgren, an 18-year fire veteran, has been to California one other time to battle wildfires, while it's Trask's first time helping in the state.
According to Kullgren, Trask is excited to "see big fire, see big country," and said it would be a great training experience.
Kullgren added that the last time he battled wildfires in California, he was injured.
"When I was out here in 2015 I was burned severely on my lower right leg," he said. "So, there's a bunch of hesitation for that for me to go out here again ... but, that's what firemen do. We have an overwhelming need to help people."
The firefighters will stay in California for three weeks before returning to New Hampshire by plane, and the truck will potentially stay behind for other firefighters to use.