Calif. firefighters battling wildfires despite losing homes
At least 53 firefighters in Butte County have lost their homes as a result of the wildfire, but are still on the front lines to protect others
---
For information on how to donate to first responders who are battling the California wildfires, many of whom have lost their own homes, check out FireRescue1's article about the top organizations assisting firefighters, law enforcement, EMS workers and other industry personnel.
BUTTE COUNTY, Calif. — Although dozens of firefighters have lost their home to a deadly wildfire, they are still on the front lines to protect others.
KCRA reported that at least 53 firefighters in Butte County are still battling the Camp fire despite losing everything.
"A high percentage of firefighters who live and work here lost their homes," IAFF representative Tim Aboudara said. "To see the number of them that were out there fighting the fire knowing that their own homes were lost, it's unbelievable."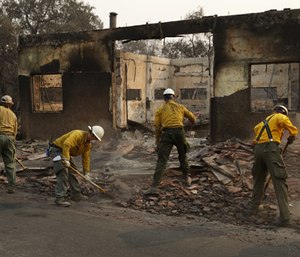 A disaster relief center was set up by IAFF in Chico to help displaced firefighters, and Aboudara recalled one of the responders that visited.
"He was just blocks away from his own home, engaged in a fire fight, well aware that his own home was probably on fire," Aboudara said. "He had to stay on mission and keep doing his job."
U.S. Forest Service's Feather River Hotshot Crew Captain Leland Ratcliff told CNN he warned his family of the fire after his intuition told him the smoke he saw over Paradise meant a fire was coming that would rapidly destroy the town.
As his family fled to safety, Ratcliff said he was faced with a decision.
"Do I go try to save other stuff (from our house) or do I go to try to let people know what was going on?" he recalled thinking.
Ratcliffe decided to work to evacuate residents and get them on Forest Service vehicles to safety. He said it didn't sink in until later that he had lost precious items such as his wedding photos and his children's kindergarten handprints.
"The guilt doesn't come until afterwards, when you realize you don't have that stuff anymore," he said. "You always want to think that life is more important than property, but it doesn't make it any easier in hindsight."
Aboudara echoed the thought, saying the firefighters are "really not going to feel this for a couple of weeks."
"They're still in action mode. They're still in response mode," he said.