Firefighters clean yard of WWII veteran
After responding to a call nearby, Gainesville Fire Department firefighters stepped in to help a World War II veteran by clearing his yard, driveway and roof of leaves
---
By FireRescue1 Staff
GAINESVILLE, Ga. — Firefighters from the Gainesville Fire Department went beyond the call and helped a World War II veteran with yard work after responding to a call nearby.
When dispatched to the area to help another resident, firefighters noticed that a neighboring house needed a little help, WFMY News 2 reported.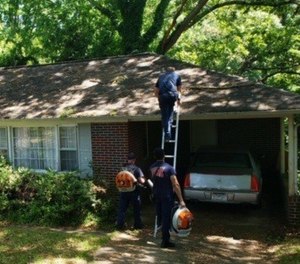 When firefighters realized the owner of the house, a WWII veteran, could not do it himself, they proceeded to go back to the fire station to grab the tools they needed.
At the end of the day, the firefighters took care of all the leaves on the yard, the driveway and the roof. In addition, they trimmed the hedges and edged the driveway.
The fire department posted a special statement on Facebook giving special recognition to firefighters Todd Summer, Jonathan Benton, Noe Guajardo, Brandon Cobb, Danny Nguyen and Ashley Mashburn for their work.