Firefighters rescue woman trapped between train and platform
The emergency prompted the MBTA to shut down third rail power in both directions and stop trains on the Red Line
---
By Kristin Lafratta
MassLive.com
A woman trapped between an MBTA train and the platform at Central Square station in Cambridge was rescued Thursday morning. 
Cambridge firefighters and police officers responded to reports that a woman became stuck between a train and platform on the MBTA Red Line around 7:30 a.m. on Thursday. Within the hour, the department reported the trapped woman was successfully extricated.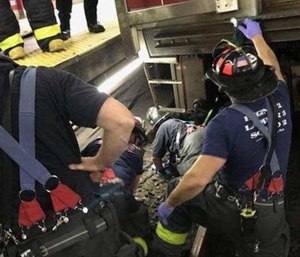 The emergency prompted the MBTA to shut down third rail power in both directions and stop trains on the Red Line, between Harvard Square and Park Street, during peak hours of the morning commute. The MBTA supplied temporary shuttle buses during the incident and reported delays up to at least 30 minutes.
Cambridge Fire reported around 8 a.m. that the woman had been rescued and would be transported to a medical facility. NBC Boston reports the woman suffered minor injuries while she was stuck.