Ky. firefighter honored for helping save man's life
Shawn Rogers, who just received the plaque, said he likes being involved in the community and helping out when the opportunity arises
---
Angela Turner
The Times-Tribune, Corbin, Ky.
TRI-COUNTY, Ky. — It's not everyday that local firefighters get to rescue someone from a burning home, but in April 2018, firefighters from two separate agencies joined together and saved a life.
It's a situation that could have been tragic.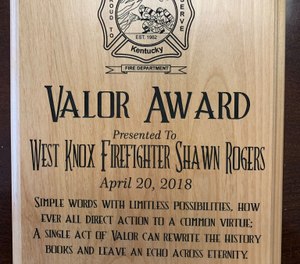 Shawn Rogers, a volunteer firefighter with West Knox Volunteer Fire and Rescue, said his department was called to assist Lily Fire and Rescue on a mutual aid run last year. Once Rogers arrived on scene, he realized the fire department was extinguishing the fire and asked if anyone had searched the residence.
He said when he learned they had not, he asked for them to stop spraying water and he entered the home. Without his breathing equipment on, Rogers entered the home and found a man inside.
Together the men from the two fire departments worked together to bring the man to safety. The man was flown out but survived.
In December, Lily Fire and rescue Chief Dougie Jones Rogers recognized his team of men along with Rogers who worked together ultimately to save a life. During the Lily Fire and Rescue's Christmas Party, Jones presented awards to firefighters Ricki Lemley, Ed Lemley, Kenny Hutton, Dennis Turner and Greg Penning.
Due to a scheduling conflict, Rogers was unable to attend the Christmas party and was just recently presented with his award.
During the party, each firefighter was presented with the Valor Award. The wooden plaque reads: "Simple words with limitless possibilities, however all direct action to a common virtue; a single act of valor can rewrite the history books and leave an echo across eternity."
Rogers, who just received the plaque, said he likes being involved in the community and helping out when the opportunity arises.
I want to thank Lily Fire Dept for giving me this Valor Award last night. I greatly appreciate it!! I also want to thank...

Posted by Shawn Rogers on Tuesday, April 9, 2019
He said that day in particular was unexpected.
"No one ever expects to see anyone in a burning house," said Rogers, "Even though I didn't have an Air-Pac on, I knew I had to do something and I had to do it then. I didn't have time to do anything else so I went in and got him."
Rogers said the firefighters train continuously throughout the year.
"Had I not received good training I probably wouldn't have known how to act, but because I've attended multiple state fire schools and been to extensive training throughout the years, it just came naturally," he said. "I knew what to do and it just came naturally."
West Knox Fire Chief Darryl Baker said Rogers and all the other guys at the Lily Fire Department deserve a pat on the back.
"We don't get to do that a whole lot," said Baker. "Saving someone in a house fire, doesn't happen around here a lot."
———
©2019 The Times-Tribune (Corbin, Ky.)
McClatchy-Tribune News Service