Pilot in plane crash credits off-duty fire captain for saving his life
Fire Captain John Meffert jumped into action to save Frank and Janan Pisano after their plane hit his car
---
By FireRescue1 Staff
ORANGE COUNTY, Calif. — A pilot who was involved in a plane crash in July spoke out about the incident and credited an off-duty fire captain for saving his life.
KTLA5 reported that pilot Frank Pisano, a 27-year flight veteran, and his wife, Janan, were flying over one of America's busiest highways right before Fourth of July weekend when the right engine of the plane malfunctioned.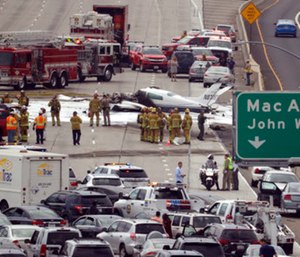 "297 mayday! We got mayday!" Pisano yelled to air traffic control. "I lost my right engine!"
Avalon Fire Department Captain John Meffert was driving on the highway when he saw the plane come toward him.
"My second glimpse is, 'I think this plane's going to hit me,'" Capt. Meffert said.  "And my third glimpse it is across the front of me, hitting me. All I see is maybe like a white flash."
The wing of the plane hit Meffert's vehicle as it crashed onto the highway, bursting into flames. Meffert pulled over and ran toward the plane to see if anyone survived.
"I felt like I needed to go see if everyone was OK," Meffert said. "It wasn't until I saw the passenger … her head pops up on the passenger side just enough that I'm like, 'There's somebody alive.' So I ran even faster and then I came from the tail section of the plane toward the passenger front."
Janan was trying to lift Frank through the plane's door, so Meffert guided her toward a part of the plane that was not on fire and then dragged Frank away from the plane and began treating him for injuries.
"He saved my life and my wife's life because I know she would have stayed trying to help me," Frank said. "John was a hero. He went into a burning plane to save us."
Frank and Janan both broke several bones in their back, but are on the road to recovery.