Ret. Calif. FF finds new passion as NFL referee, honoring earlier firefighter
Scott Campbell is the second San Jose firefighter to become a league referee, taking Bill Leavy's old number, 217
---
By Gabriel Greschler
Bay Area News Group
SAN JOSE, Calif. — Scott Campbell woke up on April 19 with a feeling of anticipation and a plan for potential disappointment.
A longtime officiator for college football and a retired San Jose firefighter, Campbell had heard rumors that the NFL was making calls that day to a lucky few being recruited as referees for the coming season.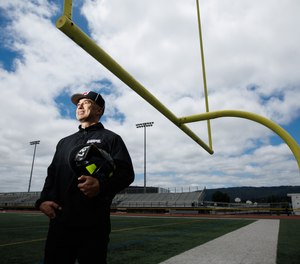 Campbell carries himself with a sense of cool confidence and focus — traits that have surely helped him both while fighting fires and making tough calls on the gridiron — but he didn't get his hopes up that his decadeslong dream was finally coming true.
The call that changed his life came at 9:32 a.m. The NFL offered him a spot in one of American sports' most elite circles — a job that entails hundreds of thousands of fans watching your every move.
"That phone call for me, I don't know, it's almost an out-of-body experience because it was overwhelming," said Campbell, 55. "It really hasn't hit me even today."
For Campbell, the new job also means he's carrying on a legacy. He is the second San Jose firefighter to become a league referee after Bill Leavy, who worked for the NFL between 1995 and 2015. Leavy died in March.
He won't be forgotten, said Campbell, who will be taking over his old No. 127.
"What are the odds that one San Jose firefighter made it to the NFL?" Campbell said. "And then what are the odds that two of them made it?"
He currently spends his days preparing for the coming fall season by voraciously studying the NFL rulebook, which features a list of regulations so extensive that it could give a law professor a headache.
Born and raised in the South Bay to a Japanese mother and American father, Campbell took an early interest in umpiring when he played Little League baseball. The fathers would sometimes step in to officiate the games, but Campbell always knew it was going to go smoother when the professionals "in blue shirts" were behind the plate.
After attending Fremont High School in Sunnyvale, Campbell went on to Hartnell College in Salinas before transferring to UC Davis, where he tried out for the football team but was buried in the depth chart. During a gym session at UC Davis, though, Campbell met an EMT, who hooked him up with a job in nearby Sacramento. By 1995, Campbell was a firefighter for the city of San Jose.
But the fascination with refereeing was still there. While working a San Jose SaberCats game as a medic, Campbell asked one of the officials how he could get into the business. His first game was refereeing for 6- and 7-year-olds.
"I had parents screaming at me as if this were some sort of state championship game," Campbell recalled. "I'm thinking to myself, 'This is just insane.'" But the bug had bitten.
Campbell was eventually asked to referee high school football, then some junior college games — which sounds like a small jump until you realize there are 175 rule differences between the two.
How does he do it? Campbell's former firefighter colleagues say he has a mind like no other.
"Scotty is peculiar," said Skip Bloom, a retired San Jose fire captain. "I mean that in a very loving way. He was different than everyone else. His mind is a trap. And he remembers everything. He's pretty sharp."
By the late 2000s, Campbell was working for the Mountain West and Big 12 conferences. Big games were now part of the job, like the Capital One Bowl, the Gator Bowl and the Rose Bowl. In 2015, he was an official for the National Championship when the Ohio State Buckeyes defeated the Oregon Ducks.
All the while, Campbell was working full-time as a firefighter, a dual role he admits was tough to juggle. He worked through it using a mixture of vacation days and shift-swapping with colleagues. The two jobs also had some similarities.
"I've been in some stressful situations where I've had family members hovering over us while we're working on their 2-year-old child giving CPR," he said. "And you can just feel the pressure closing in on you. On the football field, it's a different beast, but at the same time, it's that same feeling. You can feel the walls closing in on you if things aren't going right and it's an uncomfortable feeling."
In 2016, Campbell was brought back into the Big 12 Conference, where he was an official until last year. The job earned him some publicity — his iron-like physique landed him a 2021 article in Men's Health titled, "Big 12 Ref Scott Campbell Shared How He Became College Football's Most Swole Official," along with a smattering of tweets from TV viewers — a moment in the limelight he dismisses with a small chuckle.
By the late 2010s, Campbell thought that the possibility of earning a spot among NFL officials was within reach, but the odds still remained slim. There are only about 120 referees working for the league, and just a couple of spots open up every year. Of the seven officials on the field, Campbell's expertise is serving as an "umpire," a position that has him standing to the left of the referee in the offensive backfield to assist with roughing the passer, holding and false starts.
But when the call from the NFL came, Campbell said it brought him back to his first days starting out as an amateur referee.
"It was a long time," he said. "Twenty-five years from start to finish, to get that phone call."
©2023 MediaNews Group, Inc.
Visit at mercurynews.com.
Distributed by Tribune Content Agency, LLC.
McClatchy-Tribune News Service