Wash. firefighters work at farm for abused kids on day off from battling wildfires
The firefighters, who are helping with the California wildfires, got to work at Forget Me Not Farms feeding animals, cleaning stalls and moving hay
---
By Chris Smith
The Press-Democrat
After a 24-hour shift on the fire lines and bit of shut-eye, a strike team of 22 Washington State firefighters was told to take a break. They didn't go winetasting.
The firefighters from greater Seattle went to work Tuesday feeding evacuated animals, cleaning stalls, moving hay and spreading wood chips at Forget Me Not Farm, a therapeutic refuge for abused and neglected children off Highway 12 between Santa Rosa and Sebastopol.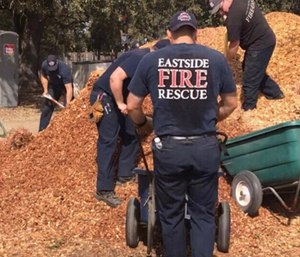 "It was amazing," said the farm's founder and director, Carol Rathmann. "They kept saying they want to give, which is a pretty amazing place to be coming from."
One firefighter after another said he was saddened to the see the destruction Sonoma County has suffered, pleased to pitch in and struck by the way local residents are welcoming them and coming to the aid of those displaced or left homeless.
"This is a great opportunity for us on our day off," said Dave McDaniel, a battalion chief with Eastside Fire & Rescue in Issaquah, 20 miles east of Seattle.
He said the strike team arrived on Friday night and have taken part in firefighting efforts in the Oakmont and Geyserville areas. Learning that there was work to be done at Forget Me Not Farm, the team showed up Tuesday morning and got to know the resident animals and the 22 others that were evacuated from a country home on Sonoma Mountain Road.
Among the sociable menagerie were miniature-sheep and horses, Angora and Lamancha goats, alpacas, donkeys and llamas.
Seattle firefighter Aaron Patterson said his four kids will want to hear more about the animals than the fires.
The firefighters, all on their first mutual-aid call to California, spoke of the unfamiliar vegetation and terrain, the huge fire camp and the heartbreaking loss of life and destruction and loss of life.
Normally when they travel to wildfires, said Seattle firefighter Jonas Smith, they are out in the woods, away from people.
"This being such an urban interface, the people are right there. Typically you don't have that interaction."
Smith said Sonoma County's "flashy grasses" and oaks are much different than the sage brush and Douglas fir of the Pacific Northwest, and the abundant poison oak caused some susceptible firefighters to be pulled of the lines.
Smith said he's also been surprised by the local weather, with its nighttime lows nearing the 30s and the daytime highs at about 90.
Then there are the snakes.
"I didn't think there are rattlesnakes, we found a rattlesnake in a ditch," the visiting firefighter said. "I'm going to try to avoid sleeping on the ground."
For one member of the Seattle-area strike team that toiled at the therapeutic farm behind the Sonoma Humane Society, this was a homecoming. Peter Ubaldi, the captain on the Seattle Fire Department's Engine 28, grew up in San Anselmo in Marin County and attended the fire academy at Santa Rosa Junior College.
Ubaldi said his colleagues, aware of his familiarity with Sonoma County and the North Bay, "kind of used me as a navigator."
Ubaldi, whose twin brother, Peter, lives in Petaluma, said he wishes the Washington team had been dispatched to Sonoma County earlier.
"When I heard about it Monday (Oct. 9) I said, 'When are we going? When are we going?'"
Though happy to be here, his involvement did make miss his 6-year-old son's birthday on Monday. 
Copyright 2017 The Press-Democrat