Every firefighting scenario needs a great movie line
The best movie lines invariably find their way onto the fireground and into the firehouse — often with hilarious results
---
A lot of classic movie lines have withstood the test of time and are still a part of our vernacular. I often wonder if that fact is lost on those in the entertainment industry.
Clark Gable had one of the true classic of classic movie lines in the 1939 movie "Gone with the Wind" when he said to actress Vivien Leigh, "Frankly my dear, I don't give a damn!"
This was back in a time when four letter words weren't heard in movies. In fact, there was even controversy prior to the film being released about the use of the word "damn." However, to illustrate its enduring quality, the line was voted the number one all time movie line by the American Film Institute in 2005.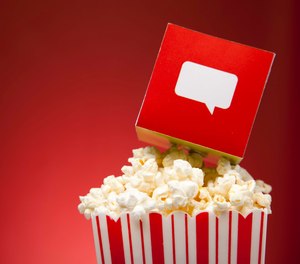 Everybody knows somebody who is a movie-line genius; many fire departments have at least one. Of course the fire service lends itself well to movie lines — fertile feeding ground for those buffs.
'Backdraft': A plethora of quotable lines
Naturally, one of the greatest movies ever recorded on film as far as movie lines for the fire service is "Backdraft." It provides a plethora of movie lines for any fire department. That is a reference to "The Three Amigos" and El Guapo: "We have had a plethora of fire alarms today."
I can't count the times walking around a commercial occupancy on a fire alarm or smell of smoke when somebody has calmly said, "Check that door for heat, Tim."
Or there's Donald Sutherland's, "Funny thing about firemen, they're always firemen." And then there's Robert DeNiro walking around a burned up building saying, "Come on, where did you come from?" I actually did that once. I didn't expect to hear any voices aside from the normal voices I hear. I just wanted to do it. 
Of course I have actually heard somebody in the back seat yell at another firefighter who was dressing, "You're doing it wrong!"
'Don't call me shirley'
The movie "Airplane" is another gold mine for movie lines.
"Where is the medic unit? They're at the hospital. They're at the hospital? Yes, it's a building with sick people, but that's not important right now."
As a crew leaves on a run you can expect to hear the ever popular, "Good luck we're all counting on you!" Or maybe you'll hear, "Surely we will make that on a 2nd alarm. We didn't make it and don't call me Shirley."
The "Vacation" series of movies have provided some memorable lines. Any type of recreation or amusement park is naturally Walley World. "Good talk son, good talk" after any serious discussion. "We're closed the moose out front should have told you."
"Christmas Vacation," which is one of my all time favorites, provides a lot of lines. Any new piece of apparatus or any piece of equipment immediately after washing begs for a "She's a beaut, Clark." A malfunction of warning lights gets a "the little lights aren't twinkling, Clark."
Of course Randy Quaid utters the ultimate line of the movie: "That's the gift that keeps on giving the whole year round." It works well after a firefighter gets an award or is recognized for something.
The serious side
Serious movies also supply great fire service movie lines. I have many, many times wanted to ask a patient on an EMS scene who has done something silly, "Private Pyle, what is your malfunction?" I haven't, however.
The number one fire service movie line, the one I have heard the most where ever I have been has to be: "Badges? We don't need no stinking badges." This line has quite a history to it. I had no idea.
The line first appeared in the 1927 novel "The Treasure of the Sierra Madre." Twenty-one years later it appeared in the movie of the same name.
The original line in the 1948 movie with Humphrey Bogart was: "Badges? We don't need no badges. I don't have to show you any stinkin' badges." The line has been misquoted ever since. 
In 1967, it was used in an episode of "The Monkeys." However, it's the 1974 Mel Brooks classic "Blazing Saddles" that most people remember. Actor Harvey Korman hands a badge to actor Rich Garcia and it is Garcia who recites a version of the line.
Any time a dress shirt or Class A uniform is needed, I hear somebody say the badge line. We have only scratched the surface here.
What is your favorite fire service movie line? Let me hear from you. 
This article, originally written in June 2014, has been updated.