FDNY joins descendants to honor 3 firefighters killed in 1923 train crash
The firefighters' great-grandchildren and great-great-grandchildren witnessed the ceremony at Engine 285/Ladder 142
---
By Thomas Tracy
New York Daily News
NEW YORK — Three city firefighters killed in a devastating Long Island Rail Road crash a century ago were remembered Sunday during a special plaque dedication at a Queens firehouse.
The firefighters' descendants, including great-grandchildren and great-great-grandchildren, were on hand to witness the ceremony at Engine 285/Ladder 142 in Ozone Park.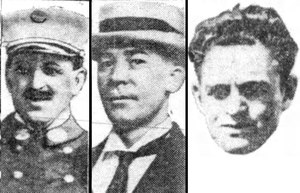 "I just think it's wonderful," Jim Griffin, 84, said about the plaque dedication although he now lives in Florida and was unable to join other relatives for the ceremony.
"I just hope it raises the awareness of the difficult circumstances these firefighters work under and the brotherhood that exists between them."
Griffin's grandfather, Lt. James Griffin, and Firefighters John Dunne and Michael Hanley were on their way to a fire during a snowstorm on Feb. 6, 1923, when their hook and ladder truck got stuck on the tracks, trapped between two falling railway gates, at Atlantic Ave. and Rockaway Blvd. at the border of Ozone Park and Woodhaven.
Seconds later an oncoming LIRR train slammed into the truck. The impact was so severe that Dunne, 36, was found dead three blocks away from the train tracks, the Daily News reported.
Hanley, who was driving the truck, died in the ambulance on the way to the hospital. Lt. Griffin died the next day, suffering from burns after contact with the third rail. Two other firefighters in the truck also suffered serious injuries.
Prosecutors charged an LIRR policeman and the "gateman" who operated the gates that trapped the firetruck with criminally negligent homicide.
"A dense curtain of swirling snowflakes that obscured traffic" was partially responsible for the crash, The News reported. Details of the case against the two LIRR employees could not be immediately accessed by the Queens district attorney's office, a spokeswoman said.
The crash spurred a push by legislators to remove street railroad crossings in Brooklyn and Queens. Many fatal accidents occurred at railroad crossings at the time.
After his death, Lt. Griffin's 16-year-old twin sons, Arthur and Gerald, had to drop out of Richmond Hill High School and support their family. Arthur Griffin became an FDNY firefighter and retired a battalion chief.
Growing up in his Queens home, a picture of Lt. Griffin hung in the hallway, Jim Griffin recalled. But Arthur Griffin never spoke about his father's death.
"He was in his uniform and he had a big black mustache," Jim Griffin said, recalling his fallen grandfather's photo. "He was a very good-looking guy."
Lt. Griffin was the patriarch of a large Irish-American family. Many of his descendants became city cops, firefighters and other municipal employees, Griffin said.
Erin Silvetti, the great-grand daughter of Firefighter Dunne, didn't know much about the century-old crash until Brian Fitzgerald, James Griffin's nephew, reached out to her and her mother about the ceremony.
"I thought he was some kind of salesperson," Silvetti, 44, said. "Then he asked if I had a family member who was in a firetruck that got hit by a train and I thought, if this was a phishing scam, it was one of the most intricate phishing scams ever. It blew me away."
Word of the ceremony inspired Silvetti to learn more about her great-grandfather and his death.
"It happened at an intersection I drove near all the time," she said. "My mom and I started talking about it, and she was really overwhelmed by emotion. She didn't know her grandfather, but she felt close to him because he was the person who made her dad and the kind and gentle spirt he was."
"She was really touched that there were people out there who are connected to us in this way," she added.
©2023 New York Daily News.
Visit nydailynews.com.
Distributed by Tribune Content Agency, LLC.
McClatchy-Tribune News Service